MORE FLIGHTS FOR JUBA, BUJUMBURA AND ZANZIBAR
(Posted 11th March 2015)

Zanzibar will see a doubling of flights by flydubai from June this year, the service routing via Tanzania's commercial capital of Dar es Salaam,
From the 29th of March onwards will Juba move from five flights a week to daily services and Bujumbura, Burundi's capital will see flights increased from the present two services a week to three. The Bujumbura flight routes via Uganda's main aviation gateway of Entebbe.
The three destinations, two of them, Zanzibar and Bujumbura, only launched last year, have seen significant rise in demand over the last few months and flydubai appears comfortable with the added capacity even for Bujumbura, also the new Visa regime has created extreme hurdles for visitors to the country, who now need to apply at one of the very few foreign missions the country has abroad for a Visa or else be refused entry.
Zanzibar's tourism sector was upbeat over the prospect of seeing the flydubai services double and expect a boost for tourist arrivals to the Spice Island as a result.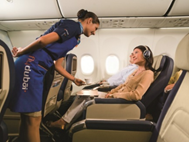 (Business Class on the B737-800)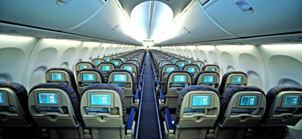 (Economy Class on the B737-800)
While visitors from abroad, flying on flydubai from across the airline's growing network to Entebbe, Kigali, Bujumbura, Kilimanjaro, Dar es Salaam and Zanzibar, can reach the beaches and safari parks of Eastern Africa at a very much reduced ticket cost compared to full service airlines, have many locals now also opted to use the new kid on the block. Reason for that, if for nothing else, are the low fares of 399 US Dollars return in economy class. flydubai offers passengers inflight catering, checked baggage of 20 kg's in economy class and 30 kg's in business class which is a booking option here unlike with other low cost carriers.
'We are delighted to offer more flights to Africa' saidMr. Ghaith Al Ghaith, Chief Executive Officer of flydubai before adding We were the first UAE carrier to serve Bujumbura, Juba and Zanzibar. We have seen strong demand for travel across our network in Africa, and we look forward to welcoming more passengers on board our flights'.
Certainly good news to see key Eastern African airports get more international flights for inbound and outbound travel and the airline's confidence is perhaps a pointer which way their strategists think business is going in 2015 and beyond.

And in news related to Zanzibar's main island of Unguja has it been confirmed that the 67 rooms and suites Park Hyatt has now opened its doors. Located at the waterfront will this branded 5 star hotel no doubt add to the attraction the byname 'Spice Island' holds for many visitors and tourists. Those flying in directly from Dubai or beyond can expect first class hospitality, at the Park Hyatt, or the more established Serena Zanzibar – which is also located in the Stone Town or one of the many 5 star resorts along the white sand beaches of the island. (https://atcnews.org/2015/01/03/3-january-2015-0047/)