LUCKY ESCAPE FOR OCEAN AIR FLIGHT PASSENGERS

(Posted 06th November 2018)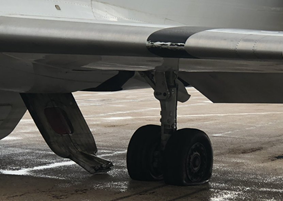 A Fokker 100 flight, reportedly operated for Ocean Air by Jetways Airlines, returned to Mogadishu shortly after take off.
The aircraft, as the picture shows, suffered two deflated tyres and the landing gear cover appears to be touching the ground.
It could not be established why the pilots decided to return but a technical problem is expected to be the cause for the decision.
The flight number was given as OE2212 and the service was due to operate to Nairobi / Kenya from Mogadishu, according to information sourced.
No additional information was available at the time of posting this article such as number of passengers and crew on board, aircraft registration and MSN.