QATAR AIRWAYS' SECOND AIRBUS A350XWB ENTERS SERVICE TO FRANKFURT
(Posted 10th March 2015)

After taking delivery of the second of 80 ordered Airbus A350XWB's has Qatar Airways now started to deploy the new aircraft on the route to Frankfurt, making it a double for the double daily service to Germany's main aviation gateway. With both daily flights now using the world's most advanced passenger aircraft has the airline according to information received seen an upswing in demand on the route, with perhaps passengers destined for Frankfurt switching from other carriers to Qatar Airways just to experience the new way to fly.
The economy cabin layout is a 3x3x3 configuration and the seats each 18 inches wide with a 32 inch pitch, the largest such seats available in the market for economy, giving passengers that feeling of extra space they so crave in other aircraft where they find themselves perched in like to proverbial herrings in the can.
Business Class again sets new standards in terms of space and seat comfort with a configuration of only 1x2x1, which arguably beats the First Class layout and comfort of many legacy airlines. When it comes to inflight catering, amenities and entertainment has QR also introduced a new range of product lines.
East Africans flying from Entebbe, Kigali, Nairobi, Kilimanjaro and Dar es Salaam with Qatar Airways to Frankfurt will no doubt be looking forward to the experience of connecting at the Hamad International Airport in Doha on to the airline's latest birds and find out for themselves why in particular the three big league American carriers have resorted to underhand tactics and allegations against the Gulf carriers, Qatar Airways included: 'They are scared, plain and simple. They have all sorts of issues but probably the main factors are that their fleets by and large are ageing and that they have failed to keep up with service standards. If you compare those areas it is a difference like day and night. I have not been on the A350 myself but next time I travel to Europe I make sure I get myself an ID ticket with Qatar Airways and fly to Frankfurt with them. I just have to see that for myself' answered a regular aviation source from Nairobi.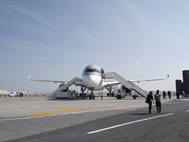 This in fact captures the sentiments of many regular passengers who fly with the Gulf big league carriers and it is obvious that Qatar Airways has gained their market share in East Africa through service levels as well as, admittedly, good fares. If there is but one issue many passengers appear to have in East Africa with Qatar Airways it is questions like 'When are we getting more flights' or 'Will they start bringing wide body aircraft to Entebbe' which are of course questions only the airline's planners can answer.
QR will receive a further three A350XWB's this year in June, July and August which will then be deployed on the route to Singapore, where the present double daily service will be upped to three flights a day when the 5th overall A350 is delivered.
'We are thrilled to have taken delivery of our second A350 XWB less than two months after the historic delivery of our first aircraft. The A350 XWB has proven to be a wonderful aircraft, both technologically and from a passenger perspective, and we are confident, that this will continue as we introduce more and more A350 XWB's into our fleet. As the A350 is setting new benchmarks in terms of both comfort and passenger experience, we look forward to welcoming our passengers on board our A350 XWB's, to enjoy our renowned five-star service' said the airline's Group CEO Akbar Al Baker when he commented on the arrival of the new aircraft and the launch in to service.
Qatar Airways is the only airline which operates all commercial passenger plane types from Airbus from the A319LR to the A 320/1, the A330, the A340 and of course that giant of the skies, the A380 and now, as the world's only airline for the time being, the A350XWB.