GEO LODGES UGANDA GET CREATIVE TO ENSURE CONTINUED QUALITY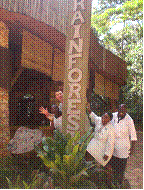 (The Geo Lodges chefs on retreat at the Rain Forest Lodge in Mabira)
The Rain Forest Lodge in Mabira Forest was the venue of a Geo Lodges Uganda second Chefs Forum recently, when they brought together their kitchen masters from the Nile Safari Lodge and the Jacana Safari Lodge to meet with their colleagues and a guest chef to discuss all matters related to food and menus.
Geo Lodges, emerging out of the New Ugandas first post war hospitality and safari group Inns of Uganda, after a name change in 2006 alongside a major rebranding, continues to be a leader in the market and continues to seek innovative ways to offer great hospitality in some of Ugandas best locations.
Their chefs forum recently focused on the use of locally available produce and incorporating them into new creations able to set the palate of guests alight with new flavours and food combinations, sure to tickle those taste buds in the most pleasant ways.
Guest chef Martin Tilbury from the UK, reportedly a regular guest in the Geo Lodges properties around Uganda, took time out and brainstormed with his local counterparts on ingredients and food presentation, and while according to Group General Manager Emily Wissanji the matooke ice cream may never see the light of day on a menu they tried it out anyway the sweet bagoya mousse definitely will make a debut on the lodge menus soon.
At the same time it was also learned that the Nile Safari Lodge, set right at the boundary of the Murchisons Falls National Park with spectacular vistas across the meandering river on to papyrus islands and the woods on the other side, was recently refurbished and modernized, to keep it on top of the charts even after 20 years of continued operations. Visit www.geolodgesafrica.com for more information on locations, attractions and for bookings, and stand by to hear news about Geo Lodges latest addition, soon to open in the foothills of the Rwenzori Mountains.