AURIC AIR ATTAINS GOLD SAFETY STANDARD BY 'BARS'
(Posted 21st April 2015)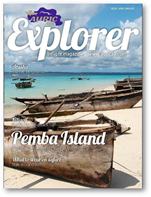 Auric Air, one of Tanzania's leading light aircraft scheduled operators, has of late made waves again. Taking delivery of yet another brand new Cessna C208B Grand Caravan EX last month allowed the airline to add a fifth daily flight between Dar es Salaam and the Spice Island of Zanzibar, meeting growing demand for airtravel.
From early May will Auric Air then launch scheduled flights from Tanzania's lakeside city of Mwanza to Tabora via Kahama, the former a major tobacco growing centre and the latter a mining town, which airfields only allows for the use of single or twin engine light aircraft, giving Auric the opportunity to be the first, again, to offer flights to yet more towns across East Africa's largest country.

On the flight safety side has Auric now attained Gold Status by the Flight Safety Foundation under their Basic Aviation Risk Standard audits. The airline had previously held Silver Status for several years before now being certified under the elevated standards, equivalent to IATA's IOSA safety audits for their member airlines.
New for passengers on board is also the availability of Auric's own inflight magazine aptly named 'Explorer', the first edition of which is now available and which will be produced four times a year. An online edition of the magazine can be accessed by those readers keen to learn more about the range of Auric's destinations and contain narrative articles of what travelers can expect when flying to the remoter parts of the country. This gives a great insight into the attractions Tanzania holds but which remained largely hidden due to the challenges in the past of getting there. Check out the link to the magazine via goo.gl/cc0RyV
Notably for Uganda has Auric for the time being discontinued scheduled flights from Mwanza via Bukoba to Entebbe due to lack of demand although charters and group bookings for the route are accepted. Click on any of these destinations shown below to obtain more information about these towns, cities, islands and national parks adding further value for the readers.
Happy Landings for the new aircraft and travelers to the new destinations.