GREATER VIRUNGA TRANSBOUNDARY COLLABORATION SET FOR KIGALI MEETING

The three wildlife management organizations from Rwanda, Uganda and Congo DR will this weekend meet in Kigali for their biannual meeting, following the previous one earlier this year in Kampala.
High on the agenda for the Rwanda Development Board's Tourism and Conservation Department, the Uganda Wildlife Authority and the Congolese Institute for Nature and Conservation will be the results of the recent census and increased measures to ensure the safety and security of not just the prized mountain gorillas, now thought to number around 880 in the three countries, but also the safety of the personnel deployed to look after the animals.
Attacks on ranger posts and ranger patrols in Congo have been numerous, as was the loss of equipment and installations and a recent attack, reported here, on a monitoring and research camp of the Diane Fossey International Fund for Gorillas in which one guard was killed and the camp completely looted and destroyed, has raised multiple questions for the conservationists.
The GVTC emerged from simple bilateral, often one on one ranger collaboration to protect mountain gorillas in Mgahinga, Bwindi, Virunga and Volcanoes NPs in 1991. It has since expanded in scope to include tourism, community conservation and research and monitoring. GVTC's operational area now extends to central and north Virunga (DRC), Queen Elizabeth, Rwenzori Mountains and Semuliki National Parks (Uganda) and in 2008 a donor funded secretariat was set up in Kigali to coordinate and link stakeholders on behalf of the Protected Area Authorities. A map showing the geographical spread of the GVTC's activities is shown here to demonstrate the importance GVTC has now reached in regional conservation and tourism cooperation.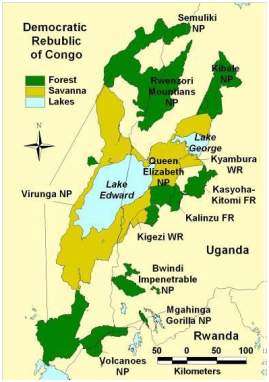 (Map courtesy of GVTC Secretariat)
It was also learned that the organization's Executive Secretary Sam Mwandha will be leaving GVTC to take up a new assignment in conservation elsewhere.
The following key agenda points have been availed and will be discussed among the participating delegations:
1. Communication from the Chairperson
2. Minutes of the previous meeting, matters arising and follow
up on action points
3. GVTC report for April to November 2012
4. Resignation of Executive Secretary and handover process
5. Report on situation in Virunga National Park and impact on
conservation
6. Progress on draft Treaty (Uganda comments and way
forward)
7. Presentation on FFI support (TA)
a. Work plan and budget
b. MoU between TCS /GVTC and FFI
All the best for the meeting as success in cooperation will mean success in gorilla conservation, a crucial component for the tourism sectors in Uganda and Rwanda, and in Eastern Congo too once peace has been restored in this volatile region.