Promoting travel to Kenya, East Africa in fact, is a primary purpose of this blog, inspite of regular yaps about negativity by some, those of course being in the tiniest of minorities and probably having their own issues …
Here comes a story from a new guest blogger, who describes how she came to Kenya, visited Wasini and lo and behold, never looked back …
Enjoy the read and yes, by all means, pay Wasini Island a visit …
How can you be happy on a tiny Kenyan island?
After having worked for 3 years in a row as a sales manager in the Netherlands without a day off, I was well aware that my upcoming 5 weeks of travels in East Africa would have a great impact on my life – but no pre-sentiment had come close to the magnitude of what eventually happened. So, in the spring of 2010, after an amazing week of camping safari in Tanzania and some days of well-earned rest in the coastal town of Tanga, I had to make up my mind where to dip in the Indian Ocean to meet my beloved marine mammals again. Mafia Islands or Wasini Island – that was the question! Both locations promised great encounters with whales, dolphins, and turtles – both islands authentic, down-to-earth, not molded by money and the usual touristic aspirations…..well, I guess only God knows for certain why I opted for Wasini Island (and I will eternally be grateful for this).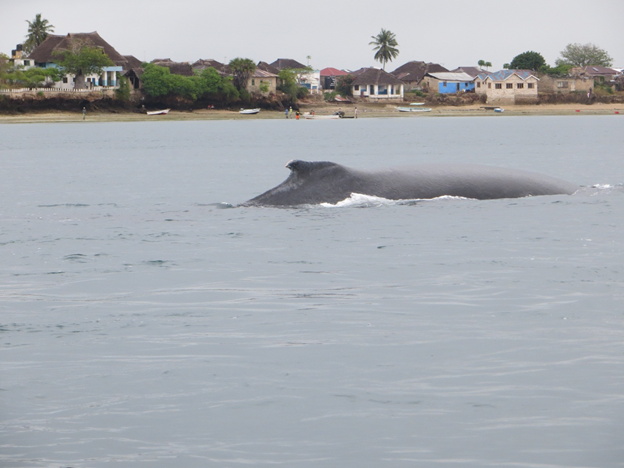 A humpback whale in front of Wasini Island's main village © Wasini Guide
Well, at this point, I need to skip some very personal, romantic aspects of my first stay on the island – but 6 months later, I had packed up my bundle and arrived with my 25 kg of baggage allowance, married my husband, and settled down under a baobab tree – well that is rhetoric – the tree is in fact in a distance of about 10 meters from our first hand-made cottage! In fact, we started our common life in a half-finished 'modern' brick house right in the center of the island's main village called fittingly Wasini. I had dumped myself right in the middle of traditional Swahili village life. Most prominent aspects of the daily island life are influenced by the Koran – Wasini people get up at around 5 am for the pre-dawn prayers, and as the sun tends to get very strong here almost right on the equator at 4 ? South, women prefer to clean their evening dishes right after the first of the five daily prayers, i.e. at about 5.30 am. You might wonder: why don't they wash these dishes in the evening? Yes, right, I forgot to mention: Wasini is not connected to the power grid! Apart from a few lucky ones who own a small solar installation, or the few, who spend their hard-earned money to quench the thirst of their generator, people here still light their houses with kerosene lamps! Not a good source of light to tend to work after dark. Island houses neither have glass windows – it is just too hot and there is no way anyone would want to keep the cooling sea breeze out of the house.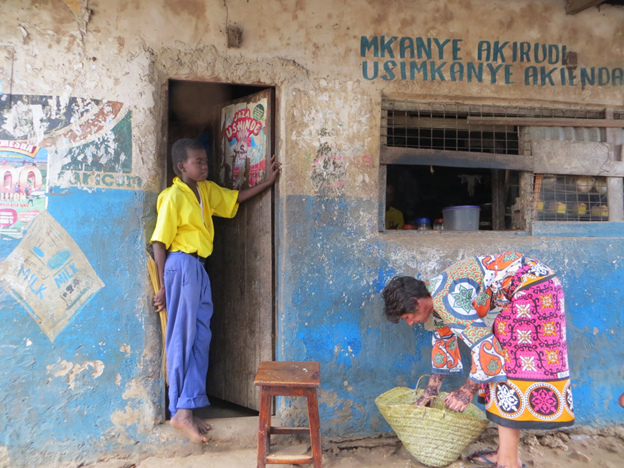 Shopping at Wasini's main store
© Wasini Guide
All this results in a lack of privacy, and the living closely together as a big village family from pre-dawn up to the last rummaging of your neighbor was driving me quickly to the brim of insanity. My most loving and understanding husband agreed: we had to flee, to quickly move away – we had to go into the bush! One of our uncles offered us a part of his so far unused, wild coastal plot beyond the outskirts of the village and it is in this nature sanctuary we laid the first un-cut stone of our Blue Monkey Beach Cottages. Of course, at that time, we did not have a clue that eventually, we would be welcoming eco-conscious travelers from all over the world in our little paradise; we just had about 100 $ savings left and 6 willing hands to turn rough island stones into walls! Then, my husband got lucky and more guests booked his dhow – the traditional Arab boats used along the Swahili coast – to go to the nearby Kisite Mpunguti Marine National Park – and money came in to pay for the mangrove poles and palm shingles to construct the roof. After 4 months of hard work we moved into our first cottage! We left the terrain and the vegetation as much as possible the way we found it – we only added some decorative and fragrant plants such as frangipani, bougainvillea, and jasmine. Blue monkeys, chameleons, tortoises, monitor lizards, duikers – a small, shy antelope living in Wasini's untouched bush areas – thus kept their natural habitat, got used to our company and accepted us in their territory. Now the sound of hornbills, sea eagles, and ibises perching on our baobab were the first sounds we heard in the morning and crashing waves the last sound in the night – my love story with the island started to turn serious!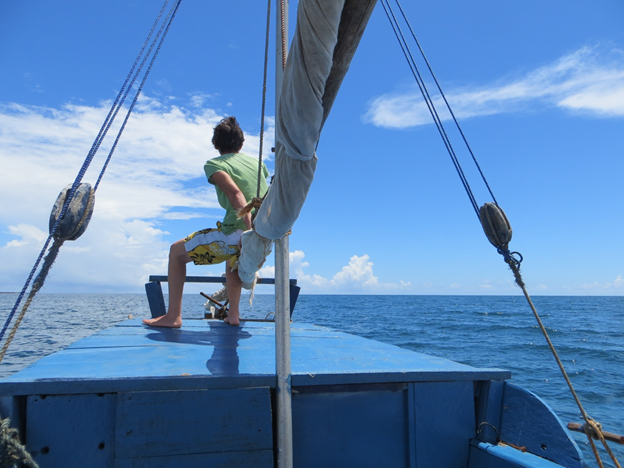 Out at sea with one of our dhows, the small Blue Whale
© Wasini Guide
The first 'strangers' who stayed in our cottage were two kind Spanish backpackers I met mid 2011 on a bus trip from Nairobi. We had chatted away the time of our journey and they had liked so much the description of my home that they stood on our doorstep a week later – we vacated our cottage for them. They totally enjoyed their stay and made us really aware of what kind of treasure we actually have. From then onwards, we moved on with 'having visitors' in mind. Over time, we added two more cottages, several roofed outside lounge and dining areas, a bathhouse, a boat jetty – all hand-made with the help of people and material from the island. We put up the Wasini Guide website to create a platform for the interested tourist. We have been fortunate to meet volunteer workers, gap year people, researchers, expats, students, families with young children, old couples, honeymooners, the intrepid single traveler, water sports lovers, people of all nationalities and from all walks of life who came to experience simple, beautiful, stress-free life in direct contact with nature. It turned out that sharing this little paradise with guests is more rewarding than all the occupations I ever had in my past life – and I have been living in 6 different countries and have an even more varied list of jobs.
Now, how can you be happy on a tiny Kenyan island?
From guest-blogger Amina Julie Sabel, co-owner of Blue Monkey Beach Cottages, Banda Mlimani, and the Wasini Island Guide at www.wasini.net