HELI CRASHES AT WILSON AIRPORT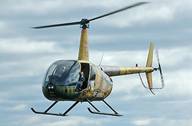 (Picture of a Raven 44 courtesy of Wikipedia)
The pilot and one passenger survived narrowly when their Robinson R44 crashed back to the ground shortly after takeoff from Nairobis Wilson Airport. Both were taken from the scene in an ambulance to the Nairobi Hospital for treatment but their condition could not be ascertained by the time of filing this article. It is understood from a regular aviation source in Nairobi that the helicopter was destined for Zambia but that the pilot apparently encountered technical problems immediately after takeoff, attempting to land but failing to do so. The helicopter on impact, just over 100 metres from the Wilson Airport control tower, burst into flames and stand by fire trucks took over an hour to extinguish the flames.
The proven two blade, single engine helicopter has nearly 5.400 production models flying around the world and offers up to 4 seats.
Nairobis Wilson Airport is said to be Africas busiest aviation facility in terms of take offs and landings and mainly serves for general aviation flights and scheduled services to the countrys national parks and to coastal destinations such as Ukunda, Malindi and Lamu served by turboprop and conventional light aircraft. The airport has in recent years developed in to a hub of aviation related consulting and maintenance facilities and is home to the Aero Club of East Africa. Due to the increasing traffic and subsequent congestion a significant part of leisure aviation and training activities has last year moved to the Orly Airfield outside Nairobi, located on the Kitengela plains.
Watch this space for regular and breaking news updates covering East Africas aviation sector.