MORE LUXURY HOTELS FOR NAIROBI AS HEMINGWAYS GOES TO FINAL COUNTDOWN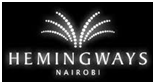 Confidence in Kenya's economic future and political stability must be at the roots of the current rush to open a string of new hotels in the top segment in Nairobi and recent announcements by leading global hotel groups about coming to Kenya's capital either this year or next year only underscores this trend. Not all though opted for the city centre or the suburbs closest to the Central Business District, as for instance the opening a year ago of the Sovereign Suites in Limuru showed.
One of the much awaited opening dates, perhaps now only a few weeks away, is that of the Hemingways Nairobi, a 45 all suite development in Karen and by the look of it a very posh hotel, appealing to both the business travelers as well as for tourists. This applies especially to those already booked to sample the Hemingways Collection's other properties in Watamu, often referred to as the original Hemingways or their superb tented lodge on the exclusive Naboisho Conservancy bordering the main Masai Mara Game Reserve.
Beach – Bush – Boutique is the current theme of the Hemingways Collection and the latter will in a few weeks open its doors to the public, offering a range of facilities to guests sure to bring out the 'awesome' calls from excited safari tourists and the more discreet nods from business travelers, especially those booked into one of the two Presidential Penthouse suites. A personal butler will be available at guests beck and call, ensuring that his charges lack nothing and at any time, day or night, get a meal of their choice, the drink they fancy, a suit pressed and a shirt ironed, as may be required.
All aspects of superior hospitality will be woven together at the new Hemingways Nairobi, fine dining, service, 80 square metre suites – larger than the bedsitters many people live in across Europe or America and range of added facilities second to none, all aimed to immediately claim one of Nairobi's top rating spots among a hotly contested market. Be it the dining, the bar, the suites, the state of the art meeting rooms or the Spa, the outdoor gardens or the indoor lounges, quality and attention to detail oozes from wherever one sets his or her eyes upon. Much to look forward to for sure and worth to watch this space for that first personal impression when staying there immediately prior or on opening. Watch this space.