MOMBASA ARRIVALS DOWN BY HALF FOR MAY BUT BETTER DAYS AHEAD
(Posted 16th July 2015)

Not since 2008, one of the worst performing years in Kenya's more recent tourism history, have international arrivals in Mombasa been at such a low level for the month of May, according to the latest statistics seen.
Only around 2.500 foreign tourists, locally called 'Wagenis' in Kiswahili, came to the Kenya coast on either scheduled flights by Turkish Airlines and Ethiopian or the few charter flights left operating mainly from Germany to Mombasa. In fact for the first five months of 2015 have overall arrivals in Mombasa reduced to just around 31.500, compared to 64.500 a year ago and nearly 80.000 two years ago. This constitutes a drop by over 50 percent, another sharp decline.
In contrast did arrivals in Nairobi at Kenya's main international airport Jomo Kenyatta International fall by a mere 20 percent from last year's 316.500 to this year's 252.800 (all figures rounded).
Some level of hope however was injected into the coast's tourism industry when last month Britain lifted several sections of their crippling anti-travel advisories, though other countries still have to follow suit.
Two major high profile visits this year to Kenya, in a few days by the American President Barack Obama and in November by Pope Francis are giving the country an opportunity to showcase the Sunday best as a safari and beach holiday destination. In addition will the Africa Travel Association come to Kenya later this year for its 40th annual congress giving the country much needed extra exposure among the travel fraternity in North America and beyond.
Internally has the Kenya Tourism Board listened to the private sector and will stage its annual 'Magical Kenya Travel Expo' in Diani in October where some fancied resorts located on award winning beaches will welcome the expected 150 hosted buyers and a large number of travel journalists from around the world.
Registration for this event is continuing throughout July but ends on the 31st of this month and all indications are that the available stand spaces will be sold out to both local and international exhibitors.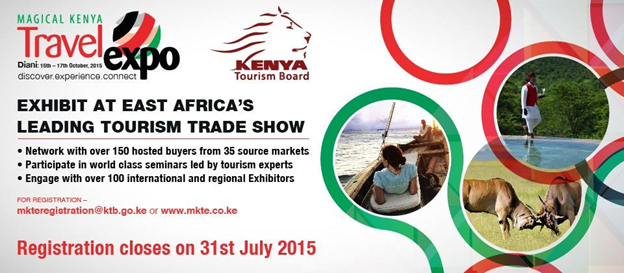 Several visits to the Kenya coast since the beginning of the year have also confirmed that while the situation remains dire for now have resort and tourism business operators shown rising confidence levels, manifested in fact by the re-opening of the Jacaranda Indian Ocean Beach Resort in Diani and the soft opening of the Sun Africa Hotels Nyali Resort, a new resort altogether. Other resort managers spoken to were cautiously optimistic that a turning point has been reached and that as long as security was assured arrival numbers would begin to rise again in the second half of this year. Watch this space for regular news updates from Kenya and the Eastern African region at large.