KEMPINSKI TAKES OVER THE OLARE MARA CAMP

The day has finally dawned on Kempinski's entering Kenya's hospitality industry proper, when the formal handover by the owners Simba Colt of the Olare Mara Camp took place earlier today to global hospitality giants Kempinski. Now known at the Olara Mara Kempinski | Masai Mara, the 11 Deluxe Suites under canvas measure an astonishing 80 square metres, while the Honeymoon Suite, which comes with its own private plunge pool, measures 110 square metres, larger than many apartments in a European city and testament to the luxurious nature of the latest Kempinski property coming on line in their global collection.
Located on the Olare Mara Conservancy, one in a string of such private partnerships between investors and the Masai communities along the main boundary of the Masai Mara Game Reserve extending from Ol Kinyei to Enonkishu, the new Kempinski in the Bush offers their clients privacy and as exclusive a game viewing and safari experience as is possible in this day and age, as across the 8 sprawling conservancies only a very small number of very small camps are located. On the Olare Orok Conservancy for instance, by contract the investors are limited to an overall number of 72 beds, spread over 4 camps, giving visitors that priceless feeling to having game, birds and nature to themselves. Unlike inside the reserve itself, there will be few if any encounters with other tourists and seeing a pride of lions is normally a one on one encounter and not the cause of a traffic jam as regularly seen inside the reserve and other parks, where drivers are jostling for the best viewing positions.
Mini busses are not permitted into any of the conservancies and the camps use purpose built, often open top 4×4's when going out on game drives. The experience in vastly enhanced by being able to explore on foot, as well as do night game drives, both of which inside the reserve are not allowed, adding a unique perspective of how safaris were done in the olden days before the onset of mini bus fleets. The Olare Orok Conservancy was founded in 2006 by among others tourism visionary and guru Jake Grieves Cook who also managed the nearby Ol Kinyei Conservancy besides the Selenkai Conservancy outside Amboseli National Park.
It was such pioneers who showed the Masai that their land, turned to conservation instead of being overgrazed by cattle, is a lot more valuable to them in terms of job creation – literally all staff in the camps are from the clans nearby – revenue through royalties and additional income and support from projects like schools and hospitals initiated by the conservancy managers and generously assisted by donations from clients.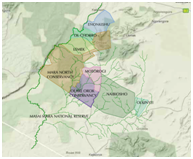 'Adventure in the Masai Mara is the latest Kempinski experience we're proud to offer sophisticated travellers' said Reto Wittwer, CEO and President, Kempinski Hotels on the occasion of the takeover. 'Exceptional scenery, intimate dining and the opportunity to interact with nature can all be enjoyed, together with Kempinski's style, comfort and service'.
Accessible by road, or easier still twice daily by air on the scheduled services of for instance Safarilink from Nairobi's Wilson Airport and through a daily flight from Mombasa, Olare Mara Kempinski is hidden in a grove of woodland on the banks of the Ntiakitiak Rover and accommodates a total of maximum 24 guests at any one time. Each tent is furnished in the classic style of the grand African safaris with four poster or twin beds, outdoor and indoor showers with oversized old fashioned claw foot bathtub and a teak deck spread over a generously large area.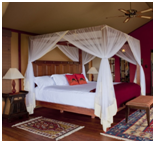 Designed for active adult travelers, the Olare Orok Camp presents a wide variety of on-site and off-site activities including game drives in 4X4 landcruisers with knowledgeable safari guides, night game drives, escorted bird, game and nature walks, Masai village visits, bush breakfast at a hippo pool, an early morning balloon safari over the Masai Mara National Reserve. All trackers, rangers and guides have a minimum of Bronze Level KSPGA qualification with some holding the coveted Silver qualification.
The Olare Mara Kempinski prides itself on being an eco-friendly resort that believes in taking care of the environment. From growing its own fresh produce in the largest organic garden in the conservancy to sourcing solar power for 70% of its energy needs, the camp ensures that it does not harm the fragile ecosystem of the grasslands.
For more information visit reservations.olare