KEMPINSKI ANNOUNCES 15 JANUARY 2013 AS REBRANDING DATE FOR OLARE MARA CAMP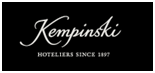 Information has been confirmed that Kempinski will on 15th January 2013 formally rebrand the Olare Mara Camp, ahead of the expected opening in March 2013 of the Villa Rosa Kempinski in Nairobi, and then operate it as the Olare Mara Kempinski Masai Mara.
The 12 'suites under canvas' property is located on the banks of the Ntiaktiak river on the Olare Conservancy, a 21.300+ acres conservancy neighbouring the Ol Kinyei Conservancy with common boundaries to the Masai Mara and the soon to be Kempinski property shares the entire area with only three other small upmarket tented safari camps, ensuring privacy and a hands on and close up nature experience where one sees game and not other tourists, and for sure not in minibus caravans causing traffic jams around a pride of lions.
The growing number of conservancies have sprung up around the Masai Mara after pioneer Jake Grieves-Cook shared his success story with the Ol Kinyei Conservancy, and more and more Masai clans are now converting from the drought prone cattle ranching to tourism and nature conservancies where often the land regenerates within a few rainy seasons, providing for superb safari experiences, through conventional 4×4 game drives and guided walks.
The new Kempinski property is run by Patrick Wachira, who started his career at the famous Finch Hatton's Camp in Tsavo West, where his father worked as a pastry chef. Peter Frank, way back of Hilton Kenya fame before opening Finch Hatton's which was to become a trail blazer for a new breed of luxurious safari accommodation under canvas with service levels and facilities hitherto restricted to boutique hotels in the cities, saw the potential in the young man and guided his career. His first job in the housekeeping department of Finch Hatton's lasted only a few weeks before he was transferred to the company offices in Nairobi where his abilities and ambitions were matched with comprehensive training. In 2006 he was appointed as Assistant Manager at Finch Hatton's but when given the opportunity to head the team at the Olare Mara Camp in May last year, oversee the construction and then manage it, there was no looking back for Patrick. A wise move it turned out to be as come January 15th next year he will join the ranks of Kempinski managers when the re-branding is being officially launched.
Watch this space for regular news from Kenya's hospitality industry and read the stories of the people behind Kenya's success as East Africa's leading tourism destination.