KEMPINSKI VILLA ROSA PRESENTS NEW GENERAL MANAGER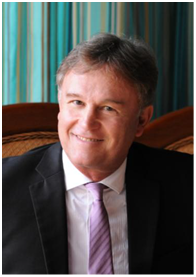 Bernard Mercier was recently appointed as Kempinski's first General Manager, for the soon to open Kempinski Villa Rosa in Nairobi as well as overseeing the Olare Mara Kempinski, an existing property being taken under the Kempinski branding, management and marketing. Bernard joins the newly built Nairobi Kempinski from China, where he last year opened a new Kempinski Resort on the island of Hainan before transferring to Kenya. Bernard started his hospitality career with InterContinental Hotels but also gained experience with Starwood's Sheraton, Hilton, Tivoli Hotels and Resorts, Peninsula Hotels and more recently the Kempinski Group. The takeover of the 12 tented 'suites' Olare Mara Camp, together with the rebranding will coincide with the soft opening of the new Villa Rosa which is located along the Waiyaki Way in Nairobi not far from the Museum Hill intersection of the new city highway and close to the International Casino. There guests can expect an array of restaurants, bars and facilities only a Kempinski would offer, alongs side 200 rooms, including 13 suites which already at this stage have gained a hearsay reputation as arguably the best in the city. Opening dates are yet to be finalized but will be published here well in advance.
Bernard is joined by Executive Chef Hans Lentz who has gained his experience as the Al Bustan Palace, the Addis Ababa Sheraton and the InterContinental in Chicago, by Britta Krug as Director of Sales and Marketing, Lydia Liu as Marketing and Communications Manager and notably has Miss Shikha Nayar joined the Kempinski in Kenya as e-Commerce Manager, after leaving the Nairobi InterConti earlier on to find a new professional challenge.
Created in 1897, Kempinski Hotels is Europe's oldest luxury hotel group. Kempinski's rich heritage of impeccable personal service and superb hospitality is complemented by the exclusivity and individuality of its properties and now comprises a portfolio of 73 five-star hotels in 31 countries. The Group continues to add new properties in Europe, the Middle East, Africa and Asia, each one of which reflects the strength and success of the Kempinski brand without losing sight of its heritage. The portfolio includes historic landmark properties, award-winning urban lifestyle hotels, outstanding resorts, and prestigious residences.
Kempinski is a founding member of the Global Hotel Alliance (GHA), the world's largest alliance of independent hotels.