KENYA AIRWAYS ANNOUNCES CODESHARE DEAL WITH ETIHAD


Following the progressive partnership between Abu Dhabi's national airline Etihad and European mega carrier KLM / Air France does it come as no particular surprise, other than the timing, that Etihad has now signed an extensive codeshare deal with Kenya Airways, a SkyTeam partner in which KLM holds a major stake since 1996 when KQ was privatized.
Etihad Airways and Kenya Airways announced this afternoon in Abu Dhabi that KQ will commence flights to Abu Dhabi starting in June this year, initially three per week while with immediate effect codesharing on the daily Etihad service between Abu Dhabi and Nairobi. What is surprising though is the extent of the deal now inked as the codeshared flights will not just cover the sectors between Nairobi and Abu Dhabi but go way beyond, both ways, with Etihad gaining access to KQ's Africa network while Kenya Airways in turn gains access to 32 destinations in the EY network to India, South and North Asia and Australia, giving their passengers yet greater value for their loyalty with more destinations, more flights and more opportunities to earn frequent flyer miles where both airlines are already working to align and integrate their respective FFP's.
It could not be immediately confirmed though, but it is very much anticipated, that this deal now signed may also be a precursor for a closer cooperation between Air Seychelles – in which Etihad holds a 40 percent share and provides the management – and Kenya Airways to progressively add more flights between Nairobi and Mahe. Presently three flights a week are operated by Kenya Airways but a codeshare with HM is now within reach to give the Seychelles national airline greater access to the African continent, where KQ can provide seamless connections to most capitals in Africa, and by the end of next year in fact all commercial and political capitals as more aircraft come on line.
This is yet another coup of sorts for The Pride of Africa after signing in recent weeks and months similar deals with Vietnam Airlines and China Eastern following codeshared operations with Korean Air. KQ now has 18 codeshare partners from around the world while it was learned that Etihad now cooperates with 42 airlines spanning the entire globe. Said Dr. Titus Naikuni, Group Managing Director and CEO of Kenya Airways on the occasion: 'This new codeshare agreement is a significant development for Kenya Airways that enables us to provide our passengers with convenient access to the capital of the UAE and onwards on the extensive Etihad Airways network'.
James Hogan, President of Etihad Airways, responded by saying: 'The partnership agreement with Kenya Airways is in line with our strategy of forming alliances with airlines around the world to enhance our network and marketing reach. Last year we launched new services to Tripoli, Nairobi and Lagos, and over the last five years we have more than doubled our services to Africa, reflecting the increasing importance of thecontinent. During the same period we have flown nearlythree million passengers betweenAfrica and the UAE, and key destinations across our network'.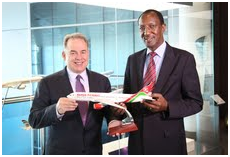 (James Hogan seen here with Dr. Naikuni – Picture courtesy of Kenya Airways)
Watch this space for regular and breaking news, often told first right here.