GLOBAL AIRCRAFT LEASING GIANTS EYE A SHARE OF KQS EXPANSION PLANS


The shortfall of over 6 billion Kenya Shillings during the recent share rights issue by The Pride of Africa and its implications for the companys financial structure in the medium term has raised renewed interest in the carrier by global leasing giants, which are reportedly taking a fresh look at Kenya Airways with the aim to get a bigger slice of their business in coming years.
While in business terms called a success, after exceeding the cash / percentage target of 70 percent, the missing 6+ billion Kenya Shillings on the paid up shares side of the balance sheet will nevertheless cause some additional brainstorming amongst top executives of KQ, now that a deal for the pre-financing of 20 brand new aircraft with Cairo based AFEXIMBANK has been signed and sealed last week.
KQ presently operates a fleet of 35 aircraft, with deliveries of a further 10 Embraer 190 now commencing in August instead of as earlier indicated in July, but the 10 year strategic Plan Mawingo target stands at 119 aircraft, including a dozen wide and narrow body freighters, leaving a significant gap between the aircraft financed and due for delivery in the medium term and the number actually spelled out on paper.
While sections of the Kenyan financial media are speculating over the need to start planning for more share rights issues in coming years, to keep the debt to equity ratio within acceptable levels, the airline is reportedly also exploring other options such as using operating leases for additional new aircraft.
The acquisition over the next 10 years of at least 64 additional aircraft, taking the present fleet size of 35 and the 20 for which finance has last week been secured, will make Kenya Airways a juicy target for such companies as ILFC or GECAS amongst others, as it could result in long term lease contracts for new jets of 12 and more years, paid for out of the cash flow East Africas predominant airline is generating rather than having to go back for the entire package to the shareholders to finance outright purchases.
Already have jitters hit individual shareholders with the share price during the weeks trading at the NSE hitting just 13 Kenya Shillings, while the institutional shareholders are reportedly thinking more long term; still, when the full year results were announced two weeks ago in Nairobi they showed that profits for the 2011/12 financial year had halved compared to the 2010/11 period. With continuously high fuel prices, rising labour costs in particular for crews and added competition though KQ is expected to take a major windfall in passengers and boosted load factors on the London route when Virgin is quitting Nairobi in September they too however will keep a close watch over future profitability to ensure a decent return on their investment, which could impact on the willingness of financial investors to commit significant future funds for new shares, while the Kenya Government and KLM, the two largest shareholders, will undoubtedly back Kenya Airways no matter what.
Additional aircraft to come on line under the airlines strategic 10 year plan are a combination of narrow and wide body aircraft, including more of the B787 Dreamliners but also the long range B777s, B737NextGen and yet more Embraers. Other manufacturers though have interesting enough not been ruled out at this stage as in particular the option of turbo prop aircraft is reportedly being looked at again by KQ. This would indicate that Bombardier during their recent visit, when they showcased their Q400 in Nairobi, may have made an impression big enough to follow up on as in especially their new CSeries appears to offer unprecedented operating economics for jet aircraft and appear right sized to fit in with the objectives of becoming Africas predominant airline.
Given a fleet size right now of 35 aircraft, the intermediate 5 year from now target according to Plan Mawingo stands at 76 for the FY 2016/17. This is includes the departure of all aged B767 aircraft, currently standing at 6, but significantly the operation of as many as 16 B787-800, 9 B777, 26 B737NG and 25 Embraer aircraft.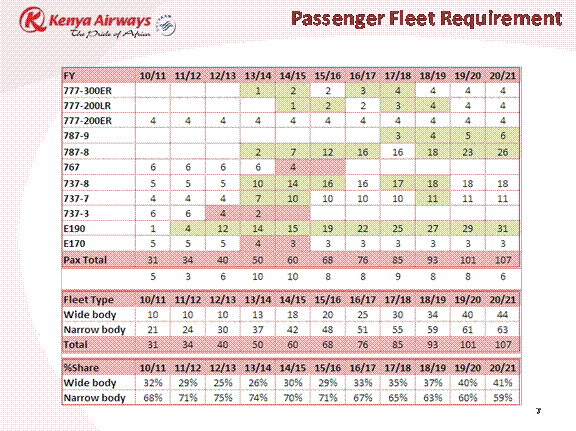 Though Kenya is now heading into general elections, due to be held by March 2013, and will undergo significant internal administrative changes as a result of the new constitution, the countrys medium and long term prospects are broadly judged as encouraging. And as the East African Communitys economic engine for growth, plans for new transport corridors to connect Ethiopia and South Sudan and the more recent oil finds all speak for Kenya Airwaysambitions to become reality, even though a range of challenges and hurdles remain to be resolved along the way. Watch this space to stay up to date with information from and about East Africas vibrant aviation sector.