MEETING OLD AND MAKING NEW ACQUAINTANCES
(Posted 20th July 2015)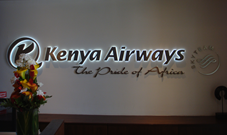 Travel across the region or across Africa is always something I look forward to, apart from having to start and end my journey in Entebbe that is.
While the zig zag towards the masked alien scare crows posing as health inspectors on arrival has now been lifted, and not a day too soon considering their onehundred percent failure rate – they caught not one case of Ebola over all these months but made a general nuiscance out of themselves towards passengers who came to enjoy the Pearl of Africa and instead got greeted by being doused in disinfectant and admonished if not every single question was ticked or answered – has the general departure experience not improved. When it rains in particular are passengers bound to get wet, starting at the perimeter security right to the moment they enter the terminal as there is simply not enough sheltered walking space along the way to keep them dry. A largely splendid experience when visiting the country is ruined at the very end, resulting in great many curses by those affected, especially the ladies when their hairdo, carefully crafted before the journey, is wrecked.
It is almost a relief then to step on board of an aircraft and leaving all those spoilers behind. As a regular traveler I always wonder if I see a familiar face on board or travel on an aircraft I have been on before. One of Kenya Airways' Embraer E190 is specially marked as the 900th delivery by Embraer of this aircraft type, and this bird has carried me to Nairobi on a number of occasions but on a recent trip it was a crew member who stood out.
Captain Aluvale, the name probably well-known by readers from East Africa, was in command on the red eye from Entebbe to Nairobi. His father, himself a Captain with whom I flew already decades ago when he piloted Cessna 404's out of Mombasa into the national parks, later went on to join hands with Capt. Kiran Patel to form Jetlink. This private airline rose fast to fame and flew domestic and regional services using Bombardier CRJ200 aircraft. It ended as a sad story, killed off by South Sudan's broke regime's refusal to let them repatriate their ticket sales funds back to Kenya, and this story was of course very well documented here.
Aluvale junior followed in the footsteps of his father with his passion for flying, ended up at Kenya Airways as a captain and the ride was smooth down to a feather light landing in Nairobi. In the cabin though another familiar face waited with the flight purser so I was off to a great start, looked after by Thomas and his team and, when the seat belt signs went, off promptly served with a cup of tea.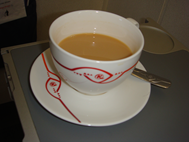 A new acquaintance was made on another flight, when one of Kenya Airways' brand new B737-800NG's with Boeing's SkyInterior cabin layout awaited my boarding. Registered as 5Y-CYC is it the third of the present order, which will be completed in November when another such bird joins the Kenya Airways fleet.
What made the immediate impression on board were the new colour schemes in both business class and in economy, adding a fresher, lighter look to the cabin, a well-designed combination with the lighting effects the crafters of the SkyInterior layout invented. There can be no doubt in my mind that considering the arrival of two more Boeing B787 Dreamliners over the next couple of weeks, that Kenya Airways, no matter the social media mobbing frenzy by well-known fifth columnists, is staying its course to upgrade and improve services both on the ground and in the air, to keep their loyal customers and gain new passengers.
Across the network have new menus made their way into the cabin and, considering there often are four choices of a main course a premium passenger can choose from, leave no palate wanting. The wine and spirit selection too has been upped and while I generally stick to water and tea, especially when on board, has the range of wines and their vintage nevertheless impressed me. Several crew in the recent past in fact, after they opened a bottle of wine for other passengers, happily offered me a glass with a splash of the liquid covering the bottom, to stick my nose in and appreciate the flavour after swirling it around for a bit.
All this of course goes hand in hand with a vastly improved experience on the ground where the new Terminal 1A has been a game changer for Kenya Airways. A vast line of check in desks keeps the queues short or non-existent. They are all preceded by automated boarding terminals where one has to insert the passport – there are staff around to help first time travelers of course – and then gets the boarding pass printed and only has to deliver the checked luggage to the desk. A dedicated, fast tracked entrance for premium passengers, which extends from check in to immigration to the security check to boarding has finally turned Jomo Kenyatta International into a proper airport again, free of the past congestion, clean, functional and pleasing to the eye.
Kenya Airways' Pride and Simba lounges round up the picture of an airline keen to please and keen to serve. With such qualities, the upcoming annual results notwithstanding, does this airline have a future, a future incidentally linked to the tourism industry's performance of the country overall, as no other carrier does more to promote Kenya as a tourism destination abroad in the way KQ does. Critics would do well to remember that instead of taking insane pleasure to tearing their airline down and in the process kicking a tourism industry which is reeling from past setbacks, also in the head.
Is there cause for constructive critique? Of course there is, no one is perfect after all but as in so many other places does the sound make the music. One does well to remember that whatever one shouts into the forest, the echo will bring it straight back.
Those I have in mind best take a leaf from another national airline in the East African Community, which has the unqualified support of their people and their government and where, unlike in Kenya, tourism numbers have grown from strength to strength for the past decade and a half. Working together with the private sector has shown enviable results and as the saying goes, united they stand and divided they fall. Quod Erat Demonstrandum. I rest my case.