KENYA AIRWAYS AND RWANDAIR AT THE VERGE OF FORMING A MAJOR PARTNERSHIP


Reliable sources from Nairobi have confirmed that a principal agreement has been reached between Kenya Airways and RwandAir, when KQ's Dr. Titus Naikuni and RwandAir's Chairman Girma Wake put pen to paper to outline future cooperation and work together to increase connectivity for their respective passengers.
The two airlines fly a total of 7 times between Nairobi and Kigali at present but will now aim at a range of tighter collaboration in cargo handling, crew training – Kenya Airways' Pride Centre offers a state of the art B737NG simulator in Nairobi – as well as maintenance, where KQ's MRO at Jomo Kenyatta International Airport can provide the closest such facility for RwandAir's B737fleet. Dr.Naikuni was quoted to have said on upon reaching the deal: 'In line with our strategy to exploit the untapped economic potential of the African continent, this partnership with RwandAir allows us, together with our colleagues in African aviation, to further strengthen and enhance our services and network.'
In turn RwandAir's Chairman Girma Wake responded: 'We're pleased to have agreed this cooperation intent with Kenya Airways. We can now offer more choice for passengers who wish to travel to Rwanda where tourism, trade and investment are on the rise. It is important that we provide the right infrastructure together with partner airlines'.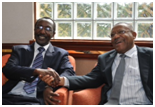 It is understood that additional areas the two carriers are eyeing for future cooperation are the possible alignment of RwandAir's Dream Miles programme with Kenya Airways' much more advanced 'Flying Blue', scheduling alignments, harmonization of the reservation systems and handling.
There is intense speculation among regular aviation pundits that this newly found spirit between KQ and WB to work hand in hand is also aimed at regional upstart FastJet to limit their future options vis a vis potential partners in the region and start, as one source close to Kenya Airways' put it 'containment measures by raising the thresholds for them'. Watch this space for breaking and regular aviation news from Eastern Africa's vibrant aviation scene.