KENYA AIRWAYS RIGHTS ISSUE COMES TO AN END WHERE TO FROM HERE



As the four weeks long Kenya Airways share rights issue offering is coming to an end on Friday, with current subscription levels a tightly guarded secret by top management and their financial advisory team and participating financial institutions, results will likely to filter through in coming days, when either targeted leaks or formal announcements will bring out the particulars, of how East Africas largest ever share offering has performed in the East African market places.
Meanwhile though it is worth it to give an overview of what Kenya Airways intends to do with the money they now raised, as incidentally the companys finance director Alex Mbugua in two recent sessions with investors from Uganda at the Kampala Serena Hotel, the last one yesterday, also outlined once again.
Dubbed Project Mawingu, the airlines 10 year strategic plan is nothing short but being the most ambitious ever developed by an African airline, aimed to more than triple the fleet over the next 10 years and adding some 60 destinations in over 30 countries to the network. 24 of these new destinations will be served with wide body aircraft and the revolutionary new B787 Dreamliner will be at the heart of this development, with the balance of wide bodied planes being made up of the equally advanced new types of the B777.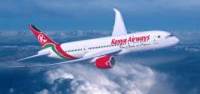 (Kenya Airways Dreamliner image, courtesy of KQ Corporate Communications)
While the bulk of the long haul expansion is eyeing China, the Far East and India, Europe, North and South America too are on the drawing board. Dehli is being launched with a B767 in May this year already, but both China and India will see a significant upping of destinations and frequencies over the coming years.
Information availed by the airlines corporate communications department shows that besides connecting every political and commercial capital in Africa by the end of 2013, there is more to come from The Pride of Africa:
For 2013/14 an upping of frequencies is envisaged for Dehli, while another Indian destination, Bangalore is due to come on line, as is Kuala Lumpur, further cementing the South South connection. In 2014/15 new targets are Beijing, Sao Paulo and Berlin, while for 2015/16 Toronto, Abu Dhabi and Shanghai are penciled into the destination planning sheets. On goes the march in 2016/17 financial year with Chengdu, Chennai and Perth, and the following year 2017/18 it is Chongqing, Hyderabad and Washington DC. Ahmedabad, Xiamen and Moscow are planned for 2018/19 and in 2019/20 are Kunming, Dhaka and Seoul on the drawing board. This is to be followed in 2020/21 by Hanoi, Prague and Urumqi, at which time Kenya Airways will serve all 5 inhabited continent with a fleet of 107 passenger aircraft the plan is to have at least 12 more dedicated cargo aircraft in operation at that time too and a range of 115 destinations, most of them in Africa and the key destinations around the world.
Intriguingly all these developments seem mirror imaged at Ethiopian Airlines, which while presently having an edge with more international long haul destinations has of late yielded ground in Africa to Kenya Airways. By choosing the Embraer E190 as their regional workhorse aircraft, Kenya Airways has been able to release more of the B737-800s into the continental and Middle East network expansion, besides key routes which are operated by wide bodied B767 and B777, in part to cater for a growing volume of cargo too. Here comes to a showdown not just the competition between the two airlines on its own but between Kenya Airways partners in Sky Team and Ethiopian Airlines partners in Star Alliance, bringing the number one and number two in the global aviation alliance business head to head. Finally has the world of aviation taken notice of Africas potential and while Star Alliance with three member airlines in Africa, South African Airways, Egypt Air and Ethiopian has a certain edge in terms of aircraft, hubs and distribution capabilities, Sky Team will not be far behind considering the plans of their key African ally Kenya Airways, and their partners flying already to Africa, or planning to, under codeshare arrangements.
The following graph shows the planned fleet development, and what role the Embraers and B737NGs are due to play in the region and on continental routes while the plans for wide bodied aircraft give notice of intent where Kenya Airways aims to be when Project Mawingu is completed by 2020/21. Does one even dare to dream beyond that date well, according to usually well informed sources the airline already has started to gather data and information to look into the time frame up to 2030/31, evidence that Kenya Airways has arrived, East Africa has arrived on the global aviation scene and is her not just to stay but to grow and claim their own.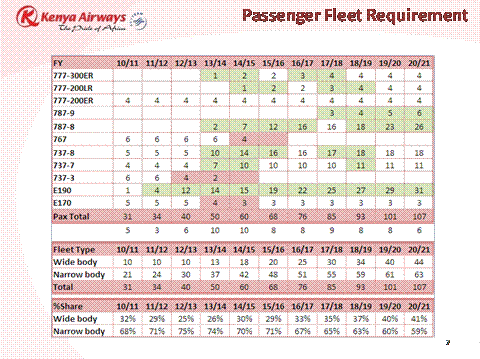 Meanwhile though have the last two days of the current share rights issue of Kenya Airways arrived, the last chance for those still pondering what future their investment in The Pride of Africa will hold for them. Well, if we are to believe that we in Africa indeed CAN and WILL achieve in equal terms and measure what others elsewhere in the world have accomplished, there is not time like the present to get on board, with shares and of course in person. Watch this space.