SMOKE IN CABIN FORCED JETLINK AIRCRAFT TO ABONDON TAKE OFF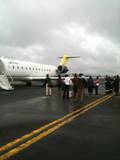 In a report just in from a Twitter source, attempting to travel to Mombasa on a Jetlink flight originating from Jomo Kenyatta International Airport, it was confirmed that the take off was aborted as smoke filled the cabin. The CRJ200 jet was set to take off for the 50 minutes flight to the Kenyan coast when cabin crew and passengers suddenly found smoke emerging into the cabin, and the cockpit crew brought the plane to a stop at runway exit E, allowing the flight attendants to evacuate the cabin through the main fold down staircase.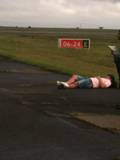 (Both pictures courtesy of Edward Kagoce via pic.twitter.com)
Notably were no emergency exits opened at the time from the plane, according to a tweetpic sent out by one of the travelers connected to this correspondent via Twitter. The same source also confirmed that the emergency services vehicles only reached the plane after 20 minutes, a damning indictment for KAA, which over the weekend went wild demolishing houses but appears to have abdicated its primary duty in this case of a potential fire hazard on the taxiway. (see related story published overnight via this link: http://www.eturbonews.com/26350/brutal-demolitions-mark-start-land-occupation-kenya-airport-auth )
Watch this space for breaking news from the Eastern African region and the Indian Ocean islands.