PARLIAMENTARY VOTE PUTS GOVERNMENTS SHARE POSITION AT KQ IN DOUBT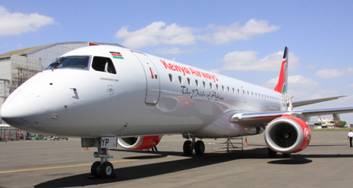 Information emerged from Nairobi that parliament slashed the budget estimate of the government to retain their significant 23 percent shareholding in Kenya Airways during the forthcoming rights issue in doubt, as only 2.5 billion of a requested 5.5 billion Kenya Shillings was passed. The Kenyan government was thought to defend their stake by injecting some 60 million US Dollars equivalent into the airline through taking up their full allocation of the upcoming share rights issue. The twist inflicted on them by parliament though may mean that the government can either not take up their full share and other investors will be able to step in and acquire a significant shareholding in KQ, or else government must try and convince parliament to allocate the entire amount needed. While the Kenyan government has let their shareholding in other parastatals and co-owned companies slip to allow greater private sector investments, this is not thought to be the case with KQ, where the country has a strategic interest and is keen to retain influence on board level to fully participate in the affairs of The Pride of Africa. It has been suggested that special arrangements be made for government to hold on to their share in the company by stretching the payments but it is not clear how other shareholders, or intending buyers from the private sector, may view such extraordinary measures and if at all such would stand legal scrutiny.
KLM / Air France, the other major shareholder, has already signaled that they will also take up their share rights in full, to retain their 26 percent holding.
Kenya Airways has opted for this method of raising cash, needed to finance upcoming bills for purchasing new aircraft and to reduce their debt exposure, which otherwise could make for uncomfortable reading of reports in finance meetings of the airline, when payments for the new aircraft ordered or still due for delivery become due.
KQ has made it clear through statements in recent months that it intends to become the number one airline on the continent, connecting all African capitals and key commercial centres from their hub in Nairobi and is also looking at expansion on intercontinental routes to capture more traffic for destined for Kenya, the region and the rest of Africa. An order and option package for 26 additional aircraft, signed with Brazils Embraer last week, will literally double the fleet of Kenya Airways and facilitate an aggressive rollout of new destinations in Africa, greater presence in the East African region and, on the domestic market the eventual introduction of a shuttle to Kisumu, similar to the shuttle to Mombasa.