ANNUAL MIGRATION STARTS EARLY THIS YEAR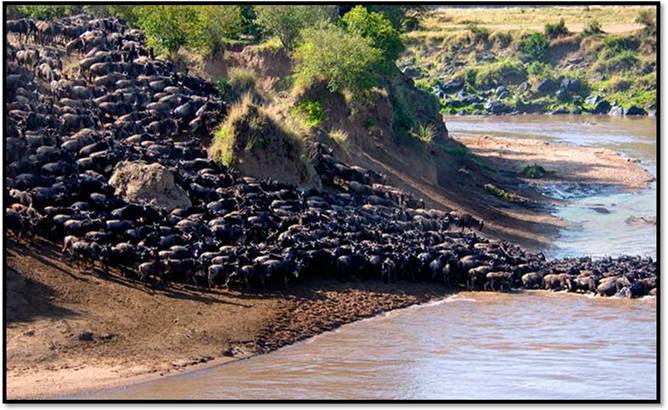 Large numbers of zebras and wildebeest have started to pour across the common border from the Serengeti into the Masai Mara Game Reserve, bringing to life the annual spectacle of the great migration reaching its furthest point of the age old cycle of the herds following the rains and the pastures.
Reports are pouring in from several places in the Masai Mara that the leading parts of the endless columns of wildebeest and zebras have started to cross the Mara River, running a gauntlet of hungry crocodiles and other predators lying in wait for them as they come up to the river and create a giant 'traffic jam' piling up on the river banks and beyond before the animals can reach  and then cross the narrow section where it is possible to get over the river, up the steep banks and into 'their promised land full of green grass'.
The spectacular crossing shown in the picture below was witnessed from the banks of the Sand and Keekorok rivers in the Masai Mara and it was learned that demand for safaris to the Masai Mara, especially the lodges located near the crossing points like Keekorok at present, has immediately sprung to life inspite of this still being the low season, so visitors can take advantage of lower rates at least until the end of June.
The annual migration lasts normally from mid or late June or July until as late as October and even November, before the great herds return into the Serengeti and make their way to the low grass plains between the Serengeti and the Ngorongoro massif where they then all assemble to give birth to the next generation of wildebeest before once again resuming their long trek back into the Masai Mara.
This annual event is one of the greatest global wildlife attractions to witness and accounts for much of the tourism receipts in both Kenya and Tanzania, which share this natural wonder between them. GO VISIT!
(Picture courtesy of Safaritrails Kenya)