DIANI BEACH MAKES IT INTO TRIPADVISOR'S TOP 25 GLOBAL BEACHES
(Posted 19th February 2015)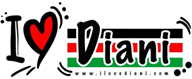 Kenya's famous Diani Beach, located south of Mombasa, has once again been recognized as one of the world's leading beaches, when TripAdvisor ranked it in their Top 25 from around the world.
Home to some of Kenya's best hotels, which includes the award winning Leopard Beach Resort and Spa and Elewana's Afrochic is this stretch of beach also home to some of the remaining coastal rainforests where large colonies of black and white Colobus can be found. Not far from Diani is the Shimba Hills National Park located as are marine national parks like Kisite, giving tourists a wide number of options to do more than just get a sun tan on the sunbeds of the many resorts found along this stretch of coast.
An 18 hole golf course too is located right in the middle of Diani and a range of water sport options are available from literally every hotel, PADI diving schools included. Skydiving is the thing to do for adrenalin addicts and when the Ukunda aerodrome has been expanded and modernized will flights from Nairobi with larger aircraft, including jets, allow for quick access to what many say is Kenya's best beach. Of course will residents of Watamu vehemently object to that but then, Tripadvisor's current ranking seems to confirm Diani's claim to superiority.
With all these superlatives and attractions however – add regular locally organized beach sports, arts and culture festivals – is the beach presently rather empty as Kenya suffers, for reasons best known to Western powers, from harsh anti-travel advisories. While Diani itself is not on the 'Do not go there' list does the main access from Mombasa, which is across the Likoni channel, the main entrance to the port, remain under strict warnings. While security in recent months has improved considerably, after a string of attacks and murders last year, has this not reflected in the lifting or softening of the language used in the anti-travel advisories to the consternation of many hoteliers. While many hotels and resorts along the coast have closed down, causing the loss of thousands of primary jobs and thousands more of secondary and tertiary jobs, do those resorts still open continue to lament the lack of government action to come to their rescue and dazzle the world with Kenya's attractions in a major recovery marketing campaign. With occupancies often below the 30 percent mark do the resorts struggle to stay open and make ends meet.
It is hoped that TripAdvisor's latest accolade and ranking for Diani will help to market the destination Kenya and the destination Diani better. Check out the following link for more information about Diani Beach by clicking on http://www.tripadvisor.com/Attraction_Review-g775870-d4102979-Reviews-Diani_Beach-Diani_Beach_Ukunda_Coast_Province.html