GAMEWATCHERS / PORINI OFFER MOBILITY IN THEIR CONSERVANCIES
Gamewatcher Safaris and Porini Safari Camps have launched a mobile tented operation, which is available during certain times of the year, currently between July and October. Comprising 6 dome tents, which sleep up to two guests at a time, they are located on their Selenkay Conservancy outside the Amboseli National Park and on their Ol Kinyei Conservancy outside the Masai Mara Game Reserve, the mobile camps are put up in areas where the game is concentrated, and while not offering the infrastructure of the regular Porini Safari Camps it nevertheless brings safari tourists even closer to one of the most unique wildlife experiences possible and at a lower cost too. Access to areas in the conservancies frequented by game, including predators, is swift as the camp locations are strategically chosen, to be hidden as much as possible from sight but also to be right in the middle of where the action takes place.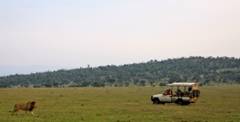 (Picture courtesy of Porini / Ol Kinyei Conservancy)
Gamewatchers / Porini offer the option of visiting only one camp or else both camps in a week long package where the arrival at Selenkay is by road while the move to the Ol Kinyei conservancy is by air with SafariLink via Wilson Airport. The return from the Mara to Nairobi is again by road, offering the scenic route up the escarpment of the Great African Rift Valley.
Game sighting details passed on to this correspondent sound almost too good to be true, but having visited the conservancies last year it is absolutely clear that there was no exaggeration, not for the figures nor for the species actually seen.
The conservancies in fact are often offering better game viewing and bird watching than the neighouring parks and in addition permit night game drives and guided walks, something which is still not possible in the national parks for reasons never fully understood.
Visit www.porini.com for more details on these locations, information about the Porini main camps and for bookings of their mobile camps and other services.