(Posted 08th November 2022)
Following a ruling by Kenya's Labour and Industrial Relations Court earlier today has KALPA, short for the Kenya Airline Pilots Association, issued a statement to the effect that strike action against Kenya Airways will cease as of 06.00 hrs EAT on Wednesday morning.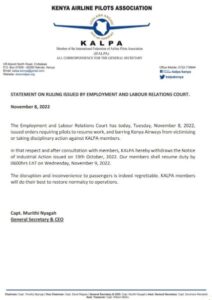 The court ruling, besides ordering the pilots to go back to work, also prevents the airline from any form of disciplinary action, victimisation or other measures against the pilots and KALPA.
The airline also posted a statement which reads as follows:
The airline had earlier in the day listed only 9 flight pairs as due to operate on Wednesday, significantly less than on the days before, a sign that their threats of sacking and disciplinary action was not working. The court ruling must have therefore come as a relief to the beleaguered management and board of Kenya Airways.
Given this turn of events are all eyes now on the next action of government, which is expected to constitute a new board of directors in the very near future, given the lack of fortunes of the board's actions in the past and their link with the previous government.
www.ATCNews.org continues to monitor this particular situation and as and when board changes are announced will readers be updated immediately.