KWS RAISES ALARM ON ELEPHANT NUMBERS

The recently concluded aerial game survey in Northern Kenya has reportedly come up with some stark declines, in particular for elephant and the Gravy Zebra species.
KWS Chief Executive William Kiprono, unlike his predecessor Dr. Julius Kipng'etich who had the EcoTourism Kenya CEO arrested for publicly disagreeing with the then published and admitted poaching figures, did not mince words when he announced the survey results at the Sarova Shaba Safari Lodge yesterday.
'I will not accept to supervise as director where animals were killed in masses. I would rather resign and watch from outside' was Kiprono quoted in saying when he had to concede that the number of elephants had reduced from 7,415 since the 2008 census to 6,361 in the 2012 census while that of Grevy's zebra had gone down from 2,400 since the 2008 census to 1,870 in 2012 aerial count. For elephant this is a loss of almost 15 percent in numbers and similar scenarios are now suspected to be taking place in other parts of Kenya too where new surveys have been requested by the conservation fraternity to bring clarity in numbers over mere allegations and suspicions.
This marked departure from past concealments and massaged statistics was broadly welcomed by the conservation fraternity, who while lamenting the loss in numbers appreciated the candor and openness with which Kiprono put the census results into the public domain.
A regular source from Kenya's conservation fraternity, known in the past for some explicit broadsides against the Kenyan wildlife management body under Dr. Julius' leadership, sounded surprisingly conciliatory when saying in a mail: 'That took us by surprise. We are used to get white washed stats from them and here is the new guy putting out what we suspected. And he says if he cannot turn the tide with poaching he rather quits? Julius did a number of good things to reorganize KWS but this sort of engagement was not his style. If Kiprono can keep this up and deliver on anti poaching operations, he will be a miracle man for the job. I agree with you, we all had some few reservations here and there when he was appointed by the president. But if this is something to go by, I am sure he means business and we can work with the man'.
The news come hot on the heels of reports emerging yesterday that as many as three rhinos have been killed over the weekend including a prized animal with a 3 foot long horn, shot 5 times near the reserve perimeter fence at the Oserian sanctuary near Naivasha.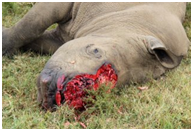 (Picture courtesy of Dr. Paula Kahumbu's Facebook page)
5 arrests were made by security organs, who were immediately alerted after the social media community raised the alarm following an SOS by Dr. Paula Kahumbu, all 5 reportedly being Kenya army personnel.
Poaching, not just in Kenya but also Tanzania and in particular Southern Africa, where the number of rhino killed for their horns now approaches 600 for the year, has been termed economic sabotage as the crucial wildlife resources needed to drive tourism numbers up, are progressively being decimated on behalf of buyers in such countries as China and Vietnam. It is expected that the new KWS Chief Executive will in coming weeks seek intense dialogue with conservation groups, NGO's and individuals to then map out a new cooperative strategy of how best poaching can be reduced and the growing human / wildlife conflict better managed. Early bouquets for William Kiprono and mega barbs for the criminal gangs engaged in poaching our wildlife. Watch this space.