LAKE TANGANYIKA STEAMER GETS GERMAN FUNDING FOR MAJOR OVERHAUL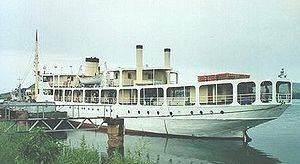 (Picture courtesy of Wikipedia)
Germany is expected to underwrite some major funding for Tanzania to retain part of her own heritage, closely linked with Tanganyika, which used to be Germanys colony in East Africa until the end of the First World War. The mainland of what is today the United Republic of Tanzania, formed some 48 years ago through the merger of Tanganyika and Zanzibar under the guidance of the nations founding father Mwalimu Julius Nyerere, was in German possession and served as a base for the Koenigsberg and her supply ships, initially causing havoc for the British naval forces in the Indian Ocean waters off East Africa, after she slipped away at the eve of war being declared in 1914.
The MV Liemba, a Swahili word for Lake Tanganyika, was put into service on Lake Tanganyika after being build in Germany in 1913 in Papenburgs Meyer Werft, and named after the Governor for German East Africa Gustav Adolf von Goetzen. Initially part of the German naval fleet, used to assert control of Lake Tanganyika during the Great War, as WW I is also known, she was operating until the 26th July 1916, when her captain scuttled the Graf von Goetzen to avoid capture and subsequent use by the British forces, which had earlier managed to first capture one of the German gunboats before sinking another vessel, leaving the Graf von Goetzen without support.
However, engineers on board the ship from the Meyer Werft in Papenburg were careful, according to available reports, to ensure the ship could be salvaged later on and carried out preservation work before the ship was submerged. It was this care and foresight which allowed the British in 1924 to raise her and after a 3 year restoration process put her back into service as MV Liemba.
Since then, apart for times the ship had to be overhauled, the MV Liemba was in uninterrupted service on Lake Tanganyika, plying the waters of Africas deepest lake, carrying passengers and cargo along the lake ports of Tanzania, Burundi, Zambia and the Congo.
A regular source from Tanzanias tourism sector, based in Arusha, had this to say: If this ship gets refurbished and upgraded, we can at last start to market Lake Tanganyika as another attraction for Tanzania. Tourists until now come to see the Northern circuit parks, climb Kilimanjaro, or enjoy the beaches of the mainland or on Zanzibar. Lake Victoria gets too little in terms of percentage of visitors, maybe because there are no suitable lake steamers of tourist passengers. Lake Victoria has a lot to offer and the Mwanza Tourist Association is keen to bring more tourists to the lake who can use Mwanza as a base. It is easy to get there because Precision Air flies several times a day from either Dar es Salaam or from Kilimanjaro. From what I know is that Precision also connects Kigoma from Dar es Salaam and from Mwanza, and that means that when the ship is ready [it is not known at this stage when this
will be accomplished] tourists have another important part of Tanzania to visit. Lake Tanganyika is Africas deepest lake and the longest fresh water lake in the world. It is bordered by three more countries apart from Tanzania, which makes a cruise interesting. Passengers could land in Zambia or Congo or Burundi even. The possibilities are so many and tourist investments will surely follow when the ship is nearing the end of the overhaul.
True enough, plans to refurbish the MV Liemba will go a long way in opening up the Lake Tanganyika region of Tanzania for tourism and it can only be hoped that this happens sooner rather than later. Watch this space for regular and breaking news from East Africas tourism industry.