#LETSGOTRAVELKE TAKES SUSTAINABILITY TO THE NEXT LEVEL

(Posted 13th April 2018)
Information received from Nairobi confirms that Alan Dixson's Lets Go Travel and Lets Go Safari have taken additional measures to live up to their credo of sustainable operations. The use of plastic cups, straws, plates and cutlery, among other plastic items, have been banned from their offices with immediate effect, setting the pace for other companies to follow suit.
Says Alan Dixson: 'Sustainable tourism is the way forward, and we support and respect responsible tourism. Lets Go Travel is committed to prevent and reduce environmental impacts. We are fully aware of our global role in the conservation of our environment and our communities. We understand and comply with all the relevant legal requirements and ensure that all social and humanitarian objectives by law are observed. We are dedicated to continually improve on sustainability performance and with full assurance of participation and adherence to the policy by all our staff'.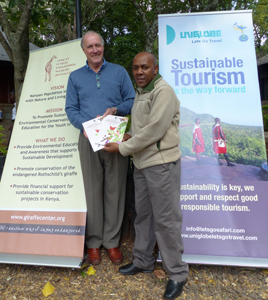 Some of the company's environmental principles have been outlined on their website, encouraging their clients and trading partners to emulate the example set by them:
Uniglobe Lets Go Travel aims to:
Reduce the consumption of primary raw materials (including fossil fuels, water and energy). We stress on the importance of switching off all electrical lights and equipment.
Encourage sustainable practices by staff, travel partners such as hotels and airlines and our clients.
Encourage and demonstrate sustainable approaches to the built environment in our refurbishment and maintenance projects.
Minimise waste production and divert it from landfill through increasing the re-use, recycling and recovery plan.
Consider sustainability in the procurement of goods and services, as well as encourage bulk buying.
Prevent pollution and environment damage where possible, also advocate for garbage separation.
Work with conservation organisations that support environmental, community and Wildlife protection.
We strongly advocate for green commuting telecommuting, carpooling, taking mass transit and human-powered commuting.
We advocate for the use of green materials such as biodegradable soaps.
We have four pillars for our sustainability development agenda. These are Conservation, Education, Community tourism and Livelihood. We use these four pillars as the foundation for all our sustainability and CSR projects.
As a result has the company won several 'EcoWarrior' awards from EcoTourism Kenya for their continued principled stand on all matters concerning the environment and sustainability across their entire range of operations.
https://atcnews.org/2017/03/24/kenyas-lets-go-travel-receives-travelife-award/