(Posted 09th September 2022)

The Kenya Tourism Board is excited to welcome you back to Magical Kenya Travel Expo for a LIVE, in-person show.
We look forward to seeing you in Nairobi from 05th to 07th October 2022.
Be inspired by Africa again as you meet with the best products and experiences across East Africa.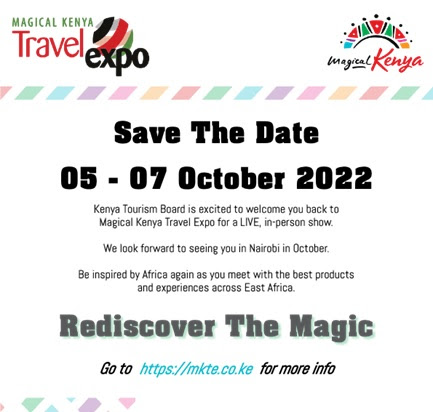 On Show Solutions
The Magical Kenya Travel Expo is organised on behalf of the Kenya Tourism Board by On Show Solutions
Telephone +254 798 568 071 / +27 82 859 1349 Emailbuyer@mkte.co.ke
Kenya Tourism Board
Physical address Kenya Re-Towers, 7th Floor, Upper Hill, Off Ragati Road, Nairobi, Kenya
Postal address P.O. Box 30630 – 00100 Nairobi, Kenya
Telephone +254 20 2711 262 Fax +254 20 271 9925 Emailinfo@ktb.go.ke
Adventure And Twin Migration Should Be In Your Travel Menu To Kenya This Season

Welcome to the 18th  edition of Reasons Why I Love Kenya (RWILK) magazine that continues to share the magic of Kenya displaying diverse tourism experiences available for visitors both Domestic and International.

With August upon us, it is time for the twin migration where we witness the great wildebeest migration in the Maasai Mara National Reserve and the Humpback Whale migration at the Kenya Coast of Watamu.

These are great spectacles that annually draw visitors from across the world to view these animals from August to October.Kenya is a land of hidden treasures and surprising features.

Some of the areas that travelers should now be excited about include; mountain climbing, hiking and birding which are part of the new tourism strategy that aims at providing life changing experiences.Enjoy the read!

Read More