MARASA AFRICA RE-OPEN ABERDARE COUNTRY CLUB AND THE ARK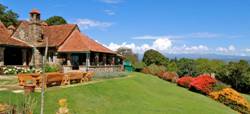 The Kenyan properties of Marasa Africa, the hospitality arm of the Madhvani Group in Uganda, have just been re-opened following months of intense refurbishments and attention to detail at the Aberdare Country Club, featured in the picture above, the Ark a treehotel now much more of a forest resort where game meanders by and tourists are stationary high above and the Mara Leisure Camp in the Masai Mara Game Reserve.
The Aberdare Country Club is set to become once again a crowd favourite in Kenya, not only because all the rooms and the main building have been fully refurbished and modernized but in part at last as the clubs 9 hole golf course too has seen some major improvements to it and more work has gone into the stables too where horses await to be taken out across the sprawling estate and beyond for some early morning or afternoon rides.
At the Ark too had extensive work taken place and the result is a sparkling fresh look at what will surely be an instant hit on the safari circuit again where a night at a tree hotels is almost a must. Here the long overdue drenching of the waterhole and the creation of a separate salt lick will undoubtedly bring ever more game to the front lawn of the Ark with visitor enjoying the spectacle either from the terrace, the lower deck lounge or the well hidden hide from where close up views of game are possible. Their third property, the Mara Leisure Camp, too has seen significant upgrading of the tents and cottages.
Marasa Africa now has 7 properties in its stable, 4 in Uganda and 3 in Kenya but has already indicated to this correspondent that they are seeking further acquisitions to expand their circuit deeper into Kenya, and other countries in the East African community too. Watch this space.