UGANDAN HOTEL GROUP EXPANDS INDIA PORTFOLIO
(Posted 14th June 2015)

In the more distant past it was predominantly Kenyan hospitality companies expanding into the region, but Ugandan based Marasa Africa successfully reversed that trend five years ago. Owning and operating four lodges in Uganda, Chobe and Paraa in Murchisons Falls National Park, Mweya in Queen Elizabeth National Park and the Silverback Lodge just outside Bwindi National Park, does the group also own and operate three safari lodges in Kenya. Their Mara Leisure Camp is, as the name suggests, located in the Masai Mara while the Aberdare Country Club and The Ark are located near Mweiga / Nyeri and in the Aberdare National Park respectively.
What however few know is that the group has over the past few years also invested in India, targeting the Hindu pilgrim market and only recently opened their second hotel in the Indian pilgrimage city of Tirupati. While owned by Marasa is the hotel managed by one of India's up and coming hotel management groups, Sarovar, which is tasked to market the property across India with pilgrims being the main market segment. The hotel was named the 'Marasa Sarovar Premiere', one of the management company's upmarket homegrown brands well known across India.
Mr. Roni Madhvani, the Director of Marasa Africa in Kampala, on request from this correspondent provided the following location description for the new hotel: 'The hotel is situated approx. 20 Kms from the main Lord Venkateswara Temple and faces the vast open Tirumala Hills, giving a unique sense of peacefulness and solitude. The holy Hill of Tirumala is, on any given day, filled with tens of thousands of devotees, many of whom have endured long journeys to see the home of the powerful Lord Venkateshwara. It is one of India's most visited pilgrimage centers. The existing demand-supply gap in this temple town offered an interesting opportunity for an appropriate development'.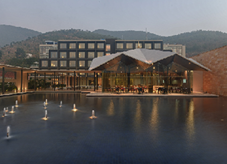 It was reliably established that Marasa plans to open initially two more hotels over the next few years. They will according to information received be established in Rishikesh and Bodhgaya, where land has already been acquired and planning is at an advanced stage.
Other projects are however said to be in the pipeline too at additional locations and those are in various stages of land acquisition, planning and raising the required finance.
With Kenya's tourism industry in particular stuttering at present was it no doubt a conscious decision by Marasa Africa to put plans for further acquisitions in Kenya on hold and rather seek out opportunities in India, where Hindu pilgrimage travel forms a fundamental part of society and life in general. Being present in key locations with high quality hotels under competent management is no doubt an investment which offers almost instant returns at low political risks. For more details on Marasa Africa click on www.marasa.net