ST. REGIS OPENING POSTPONED BY 4 MONTHS TILL SEPTEMBER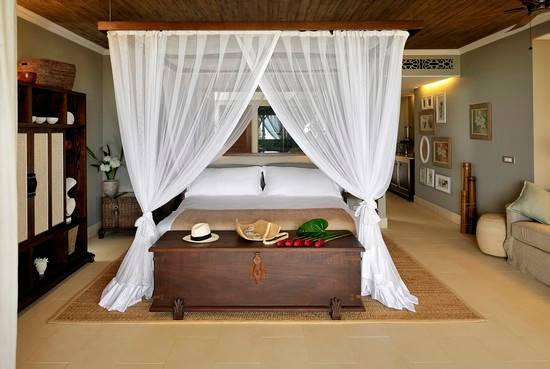 (Picture courtesy of St. Regis Mauritius, showing a sample bedroom)
The much anticipated grand opening by the new St. Regis Mauritius, named by the Forbes Travel Guide as one of the worlds 10 most anticipated new hotel and resort openings in 2012, has been moved from the 15th of May to the 15th of September, according to a source from Port Louis.
In an overnight communication sent to this correspondent were substantial delays in getting the furniture and equipment on to the site cited and a press release from the hotels pre-opening team states as much, underlining that the resort would only be opened with all services available to guests from day one, and not in a phased advance.
The hotel is the first St. Regis in sub Saharan Africa and the 173 villa and suite resort will be the latest addition to a number of top rated 5 star resorts on Mauritius, adding more glitz and glamour to the destination. Located at the scenic Le Morne peninsula in the South West of the island it enjoys spectacular views over the turquoise waters of a lagoon on the ocean side and the backdrop of Mt. Brabant, a UNESCO World Heritage Site. The new resort is expected to climb the official rankings quickly and fast become a darling of such travel sites as TripAdvisor, when finally open in 6 months time. Watch this space for more updates, as and when available.
Visit www.stregismauritius.com for more information or else see the Starwood Hotels site and follow the St. Regis link to the new property.