(Posted 17th January 2023)
This is to serve as an introduction to two of this dynamic international hotel group's marketing team, based in Johannesburg.
Having been in the business of hospitality for many years, upon opening its first resort hotel in 1978 in the seaside town of Pattaya in Thailand, there are eight different brands within the group worldwide.  The Johannesburg offices however are focused on promoting its Anantara and Avani Southern Africa portfolio that includes hotels across Zambia (Victoria Falls), Lesotho, Botswana, Namibia, and Mozambique.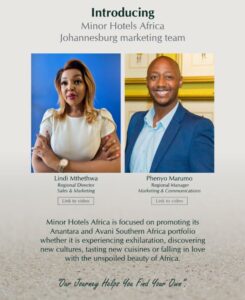 Introducing: Lindi Mthethwa as Regional Director of Sales & Marketing and Phenyo Marumo the Regional Manager Marketing & Communications. Listen to their insights on the hotels and resorts by clicking on the YouTube links below.