#SGR CONNECTION TO HARBOUR NEARS COMPLETION AS #DONGOKUNDU PHASE 1 OPENS

(Posted 05th June 2018)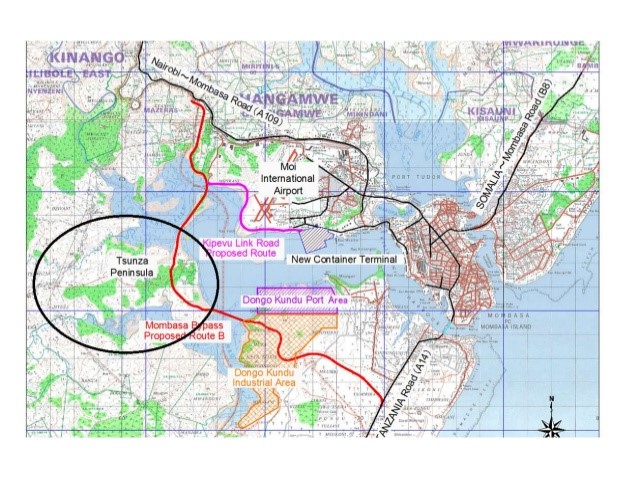 The first stretch of 11 kilometres of the Dongo Kundu bypass highway – linking Moi International Airport and the Nairobi to Mombasa highway to the southern mainland – is opening this week for the public. This will allow traffic to the southern mainland to bypass the city and in particular avoid the unreliable Likoni ferry crossing.
A total of three phases is planned until the entire new highway is ready, with phase two already under construction covering the a 9 kilometre stretch from Mwache Junction to Mteza while the final 7 kilometre section from Mteza to Kibundani will then complete the project and give swift access to Kwale, Ukunda, Diani and beyond towards the Tanzanian border at Lunga Lunga.
Meanwhile has confirmation been received that the bridge, a key element in the link from the present SGR terminus and the port of Mombasa, is also ready, a crucial link of the nearly 3 kilometre section of standard gauge rail. Once the new access route is ready will containers destined for Nairobi and further upcountry and to the African hinterland countries be loaded directly on to rail carriages at the port, avoiding the costly and traffic jamming road transport from the harbour to the terminus.
Logistical challenges like these are thought to be major factors in the slow uptake of the rail service for cargo handlers and shippers, despite a government directive that a major percentage of containers landed in Mombasa must be transported to Nairobi by rail.
In a related development was it also learned that the passenger services, launched just over a year ago, have generated over a billion Kenya Shillings in ticket sales, a trend still growing now that two train pairs a day ply the route between Nairobi and Mombasa.