RWANDAIR'S SECOND ENTEBBE TO NAIROBI FLIGHT COMES WITH LOWER FARES
(Posted 05th June 2015)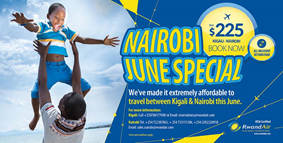 When in late January RwandAir was finally allowed by the Kenyan aviation regulators to commence fifth freedom flights between Entebbe and Nairobi, many thought the airline was fighting an uphill battle on a very uneven playing field, in a game of six versus one with a capacity cap slapped on them to be sure they cannot succeed.
The scheme to frustrate RwandAir was of course hatched in the offices of the Kenya Civil Aviation Authority, which had obstructed the long standing plans by RwandAir to use the rights given to them by Uganda, if for nothing else but make sure that another airline from Kenya could launch Nairobi Entebbe flights first, making life for Uganda's adopted home airline just that little bit more difficult.
But best hatched plans often backfire when faced with an airline determined to make a success of everything they do, and so effective 01st of June did RwandAir launch a second daily flight between Entebbe and Nairobi. Meanwhile is it now an open question when the other Kenyan airline will throw in the towel as a result of, what one airline manager in Entebbe described recently to this correspondent 'pathetic passenger numbers'.
That description does not apply of course to RwandAir which has made serious inroads into the traffic share on the route to Nairobi, considering it is faced with as many as six flights a day by Kenyan airlines versus their own two.
'Their flight timing is convenient and the fare of 250 Dollars return is much cheaper than what I can get from others' said a passenger who identified himself as Mukasa when spoken with while I was waiting for another flight at Entebbe, not knowing that he was due for a surprise of sorts. The 250 USD fare was of course introduced when operations started at the end of January and has remained on the market ever since. Meanwhile though has RwandAir launched their second daily frequency and to sweeten that deal lowered their fares to US Dollars 225, return, all taxes inclusive, for which passengers get a piece of checked baggage up to 30 KG's and a snack and drinks on board.
It was RwandAir's plan, and remains unchanged as far as could be established, that by the end of the year there will be three daily flights between Entebbe and Nairobi under fifth freedom rights, and the daily service from Entebbe to Juba too may see additional frequencies added, after the airline takes delivery on the 20th of this month of another Bombardier Q400NextGen aircraft. The demand is certainly there and RwandAir, more than the other fifth freedom operator from Entebbe to Juba, has truly been embraced by Ugandans as their own.
'They are punctual. They fly very new planes. They are safety certified. They offer a good service on board and on the ground. They try harder' answered a travel agent when asked to give her top five reasons why she was booking passengers to Nairobi and Juba with RwandAir – by any standards a glowing endorsement. Which goes to demonstrate that small can be beautiful and in this case it is. For information on schedules, fares and frequent flyer benefits click on www.rwandair.com