Thanks to Gill's tireless efforts here comes another edition of her 'The Livingstone bi-Weekly'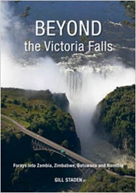 https://thelivingstoneweekly.files.wordpress.com/2016/09/tlbw28sep16-compressed.pdf
Inside:
Livingstone City Council reduces Casuals
Bridge covered in rubbish
Immigration rule
Chipembele and pygmy hedgehogs
Planting trees at Chisyabulungu
Nanzhila cheetahs
CoP17- some reports
New development in Vic Falls Town
Sex change for lions
Botswana National Parks camping
Mazambala Lodge burned
Decomposed bodies in Bwabwata
Deforestation in Caprivi
Lions from Mudumu in Angola
Cliff Diving
https://www.facebook.com/victoriafalls.zambeziriver/videos/10154276329743646/
Kafue Rowing Centre
Wild Dog in Hwange
https://www.facebook.com/PaintedDogsZimbabwe/videos/10154419773260941/
One word to describe this——-beautiful, absolutely just beautiful. Ooh that's four words. This the Nyamadhlovu pack and their 13 pups inside Hwange National park
Mana Pools
Some hunter friends of mine rescue a young elephant that was stuck in the mud near the Bream Pools near Rifa Education camp Chirundu, Zambezi valley. Were chased by the animal for their efforts.
https://www.facebook.com/norman.crooks/videos/1103099349803802/