STEALING SEYCHELLES CARNIVAL CONCEPT THE BEGINNING OF THE END OF KARL?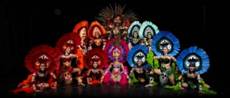 Mauritius Tourism is bracing for stormy times following the formal announcement by MTPAs desperate man Karl Mootoosamy, that he will copy the Seychelles carnival concept as a last ditch effort to show some action, already termed sneaky by sections of the ever more critical private sector on the island which is getting increasingly frustrated with their own official tourism marketing office. The copy cat event is due to feature between June 29th and July 01st,, totally out of tune with the global carnival calendar, and information comes from both Seychelles and La Reunion, which both successfully staged the Carnival International de Victoria in March, that they have to this moment not received an invitation, which if true would reflect fully on the mindset and lager mentality at MTPA at this moment in time, exposing what Mr. Mootoosamys organization truly thinks of fellow Vanilla Island members.
As reported a few days ago here, a tip off from a regular and usually well informed source from Port Louis had predicted this would happen as MTPA had run out of vision and ideas of how to cope with the Seychelles and La Reunion marketing and PR juggernaut which left Mauritius trailing in their wake and has senior staff at MTPA reportedly worried for their jobs. The media in Mauritius who in large numbers accepted the invite to Victoria smelled a rat already when in early March MTPA turned a cold shoulder to an invitation by Seychelles Tourism to attend the 2nd Carnival International de Victoria, but the intended snub turned counterproductive as La Reunion as co-host and Seychelles stole the show in all subsequent tourism events and in an ongoing media blitz. Copycatting such a concept after the way Karl and his merry men behaved when they were AWOL from the Seychelles in March will give Mauritius media coverage but of the worst sort the source added when communicating the decision to this correspondent. Others raised the issue of cost comparison pointing at the two Creole Festivals in Seychelles and Mauritius, where the latter is reportedly using large amounts of tax payer money to equally try rival Seychelles, where this festival has been hosted for nearly a quarter of a century already, with growing global acceptance and as a result of the unique partnerships STB forged with little expense to the tax payers.
Others are equally pointing at the ethnic separations on Mauritius, an issue which time and again appears to be coming up in mails and messages from the island, which have been suggested to be at the roots of socio economic divides on the island unlike the rainbow islands of Seychelles and La Reunion. Another source swiftly pointed to other issues like the Mauritius governments stubborn insistence to reform and reorganize Air Mauritius, which too has been burdening the tax payers with bearing the significant losses the airline has piled up in the recent past. There are many tourism stakeholders who feel that the time if up for Karl and there has to be major reform at MTPA if tourism growth is to return. Mauritius has a big potential for tourism but it takes a vision and equitable participation of all groups on the island to achieve that. And we need genuine partnership with our neighbours in the Indian Ocean and not giving the impression that we cannot be trusted and are back stabbers
The question is now being asked across the Vanilla Island cooperation how to respond to this unilateral departure from a jointly mapped out path and way forward from which all island could have benefitted. To await changes in the tourism marketing direction of Mauritius first before re-engaging with them, attempt the impossible and talk to what appears to be a hostile MTPA administration or accept their self declared departure from commonly agreed positions and move ahead without Mauritius. Fodder for thought and without a shred of a doubt good for La Reunion and the Seychelles which are treading the moral high ground while Mr. Karl has moved his organizations path into the domain of copy / paste jobs, elsewhere known as plagiarism. Watch this space.