MV PEARL TAKES TO THE LAKE AT LAST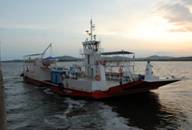 The MV Pearl, owned and operated by Kalangala Infrastructure Services, has now reportedly been granted a full license to operate between the mainland at Bukakata near Masaka and Luku on Bugala Island, the main island of the Ssese group in Lake Victoria and site of the Kalangala district administration.
The new ferry will be bringing relief to the islands who in the past had to rely on the often patchy and unreliable services of MV Bukakata. As was the case in the past, the services of the ferry are free of charge, subsidized by government as part of brining infrastructural development to the islands.
It is understood from the owners of the ferry, which can sit up to 160 passengers with a further 40 standing and as many as 20 cars, that a second ferry, the MV Ssese is under construction and due to be commissioned within 10 months, then providing both back up and boosting capacity on the route.
Allegations that an exclusive underhand deal was struck were dismissed by both government and the ferry owners and operators, as it was pointed out in a press release to this correspondent that the route was non-exclusive an open to additional operators, subject to meeting marine licensing requirements and on proof of relevant insurance covers.
The new ferry service will now commence a scheduled operation, ending the often long waits when in the past vehicles and passengers had to wait for long hours before the ferry would finally make an appearance.
KIS is reportedly also in the process of constructing a water distribution pipe network on Bugala as well as engaged in road upgrades but most important the setting up of a hybrid power station on the island, bringing relief from the notoriously unreliable powersupply from the mainland. These projects are understood to be undertaken in the format of a public private partnership between government and KIS.
Members of the tourism fraternity have welcomed the arrival of the new ferry but also expressed their desire that similar services from the Entebbe pier and the Port Bell harbour be increased too to facilitate the regular movement of tourists and locals to and from the islands under safe operating conditions. The Ssese island group on Lake Victoria is often seen as a yet to be tapped tourism resource and a number of smaller hotels have in recent years been opened where tourists, mainly backpackers, can stay and enjoy the forests and beaches of the main island Bugala and many others dotted around it in the lake. Happy sailings.