KIMUNYAS FATE IN BALANCE AS CABINET TURNS ON HIM
Embattled Amos Kimunya, for now still Minister of Transport while his fate hangs in the balance over investigations by parliamentary committees and after locking horns with cabinet colleagues, will have swallowed hard when the last cabinet session on Thursday this week, chaired by President Kibaki, tossed his feeble objections out of the windows and directed that Project Greenfield be advanced with all due haste and with the inclusion of all relevant stakeholders.
Kimunya had made a mockery of his sworn allegiance to the President when he declared he could not care less who was going to break ground for the project, after it became known that President Kibaki was keen on doing that while still in office, and sooner rather than later this attitude will result in the inevitable political consequences. Going like that against a president was in the past enough reason to be sacked, or worse, but Kibaki, a political rock in his own right, will probably rather have parliament do the dirty work and censure Kimunya than having to sack another minister, less than 7 months prior to elections. The minister had also casually dismissed the legal opinion of his cabinet colleague the Attorney General and in an almost trademark move attempted to direct KAA to overturn the tender award made in December last year, without however having the stick at his disposal to enforce such a directive. Efforts later on to have his loyalists on the KAA board suspend if not sack Gichuki also failed, resulting in more egg on faces.
The cabinet directive, given according to a regular very senior government source as in your face Kimunya, now clears the way for the Kenya Airports Authority to move ahead with the project, resolve remaining financing issues with the main contractors Anhui Construction from China and then commence the works, presently several months behind the initial schedule.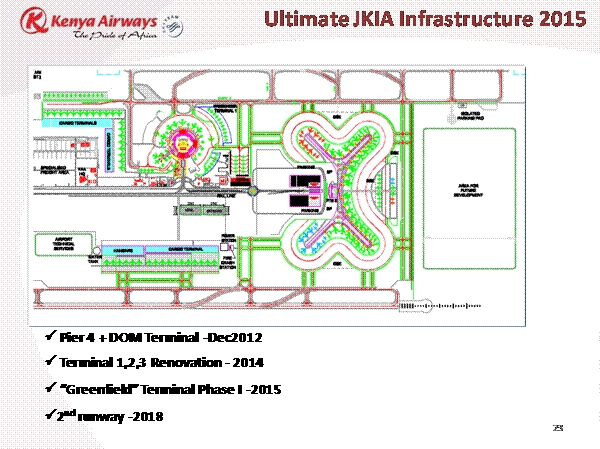 The workscope includes the much overdue second runway for JKIA, a connecting taxiway as well as another mega terminal, due to be used almost exclusively by Kenya Airways and their partners in SkyTeam like KLM, Air France and others, as well as other code share partners, allowing the national airline to continue their relentless rollout of Project Mawingo. In this plan is outlined their 10 year strategic plan which will see the overall fleet, including 12 cargo aircraft, grow from presently 37 one aircraft is enroute from Embraer to Nairobi as this report is uploaded to 119 and destinations to grow to 115 destinations on all continents.
While Kenya Airways strategic plan is aimed to keep them in contention for the top slot in African aviation, the Project Greenfield is a crucial component of Kenyas Vision 2030 which is aimed to ensure the regional and continental competitiveness is retained and enhanced and Nairobi remains the wide regions preferred aviation hub.
Time to get on with it then it seems and get the project financing resolved and ground broken to catapult Kenyas aviation sector truly in to the 21st century and beyond. Watch this space.