SAFARILINK'S NEW VIPINGO SERVICE DRAWS CHEERS FROM LOCAL RESIDENTS
(Posted 04th July 2015)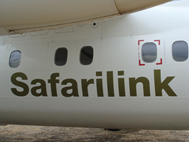 When Safarilink's Bombardier Dash 8 touched down on the Vipingo Ridge airstrip shortly after 2 p.m. on Thursday afternoon this week, did cheers from the assembled political leadership of Kilifi County, local residents and both residents and staff of Vipingo Ridge affirm that this moment was long awaited.
The Governor of Kilifi County, Hon. Amason Kingi, who was guest of honour on this occasion, was joined by Kenya Coast Tourism Association Chairman Mohammed Hersi in his praise for the new daily scheduled flight and both singled out the time savings passengers can enjoy when flying nonstop from Vipingo Ridge to Wilson Airport compared to the cumbersome detour into and through Mombasas to the international airport.
Kingi spoke of several hours of journey time saved, with the added benefit on arrival at Wilson Airport that the equally frustrating drive from the airport to the inner city and the outer residential estates was equally cut short.
Vipingo Ridge's General Manager Mike Round-Turner in his brief humorous comments made sure that everyone knew that this was a daily scheduled flight service by Safarilink for ALL north coast residents from Nyali to Kilifi and not just for Vipingo Ridge residents when he said: 'This service is for you all. It is a North Coast service, not a Vipingo Service' before pointing to safe parking facilities which will be open to Safarilink passengers for the duration of their trip free of charge.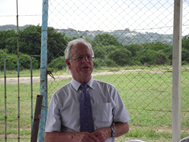 (Safarilink CEO John Buckley seen during his address)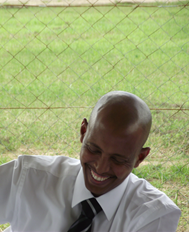 (KCTA Chairman Mohammed Hersi clearly enjoying the moment)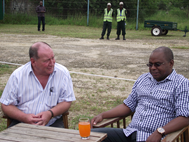 (Mike Round Turner seen here with Kilifi Governor Kingi answering questions of the local media. Airstrip security personnel seen in the background inside the perimeter fence)
Safarilink's CEO John Buckley, who had arrived on the inaugural flight with his Director of Marketing Anu Vohora, sang from the same hymn sheet when he assured the assembled crowd that the service was not just here to stay for good but to go nonstop when passenger numbers allowed to delink it from the present Ukunda routing.
Like Ukunda Airfield, now the South Coast's primary aviation platform for residents and many local tourists to fly into or out of Diani, does Vipingo intend to become a similar option for long suffering North Coast residents who are fed up to the teeth with the traffic jams going to and coming from Moi International Airport in Mombasa, and are expected to flock in growing numbers to Vipingo for their Nairobi trips.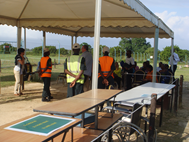 (Check in set up at Vipingo Ridge's airstrip which included manual security searches as mandated by KCAA)
Golfers in particular of course will be keen to fly from upcountry directly into Kenya's number one golf resort as a golf bag is uplifted at just 1.000 KShs per sector. There is now no better way to fly to Vipingo but with Safarilink. For schedule details and fares click on www.flysafarilink.com