More bad news every day about
poaching, wildlife and environmental crimes
in the spotlight today ……………………
EIA: China's Blood Ivory Carving Factories. (NA comment: Will you find this report on the pro-China CITES web site?) extract: It's been 17 years since Japan was authorized to legally buy ivory from the Southern African states by CITES, and as far as EIA can see, they have been non-compliant with the CITES regulations throughout that period. The same with China, since they purchased ivory in 2008 they have never been in compliance with the CITES ivory regulations to have demonstratively effective controls over the raw tusks and over worked ivory.http://www.huffingtonpost.com/jamie-joseph/eia-chinas-blood-ivory-carving-factories_b_6655144.html
CITES IS A SHAMEFUL SHAMBLES – ISN'T IT?
WHO'S IN CHARGE OF CITES? CHINA?
ELEPHANTS, TIGERS AND RHINOS. SLAUGHTERED BECAUSE OF THE FAILURE BY CITES TO ENFORCE SANCTIONS?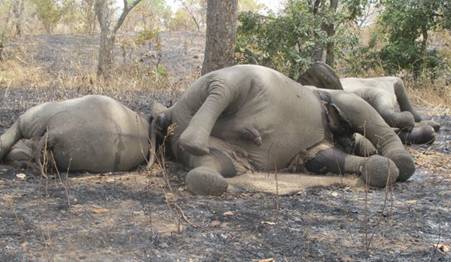 Slaughtered courtesy of CHINA & the absence of CITES enforcement?
According to EIA, Japan has been in breach of CITES for 17 years and China 7 years.
That's long enough, isn't it?
All three men are very influential over which countries are punished, or not, by CITES. No one, least of all us, is asking these men to do more than enforce the CITES Convention – which is what they are paid very well to do. Do you have confidence in them? OR DO YOU FEEL IT'S TIME FOR CHANGE AT THE TOP?
Achim Steiner UNEP John Scanlon CITES Oystein Storkersen. CITES
Executive Director Secretary General Chairman: Standing Committee
No 337 Wildlife Trade News 19th February 2015
30 RHINO HORNS FOR SALE WHILE VIETNAM, MUCH LIKE CHINA DOES, PAYS LIP SERVICE TO CITES.THEY HAVE NOTHING AND NO ONE TO FEAR – DO THEY?
One trader in Vietnam is seen offering more than 30 rhino horns on his smart phone. All the horns are available to be inspected at short notice – as long as a deposit is paid. Wholesalers and importers market their wares to a wide range of retailers in the region and they all have their products available on their phones. It is not just rhino horn for sale, displays often also include ivory carvings, tiger skins, tiger teeth, claws etc. Any enforcement agency in the region committed to their task would have no problem infiltrating these networks and receiving the same offers the retailers get. Rounding them up based on such information would be the next step. At present enforcement agencies so called activity is mere lip service and window dressing to minimize the potential PR backlash associated with this plundering of the planet's resources. by Karl Ammann https://www.youtube.com/watch?v=DAAfYhn-n-g&feature=em-upload_owner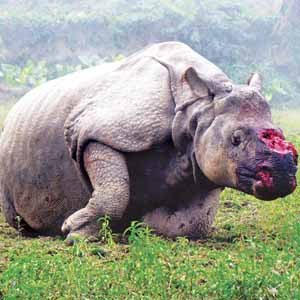 Slaughtered courtesy of Vietnam & the absence of CITES enforcement? If you feel uncomfortable about this, imagine how the rhino felt.
Chinese banks funding rainforest destruction in Indonesia http://news.mongabay.com/2015/0218-banks-financing-april-indonesia.html#ixzz3S8ijv9EN
Rhino poaching: Lack of proactive approach a concern. (NA COMMENT: Despite which, the CITES Secretariat gave South Africa an award last week. What do you think of that? Who next for a CITES award – the mafia?)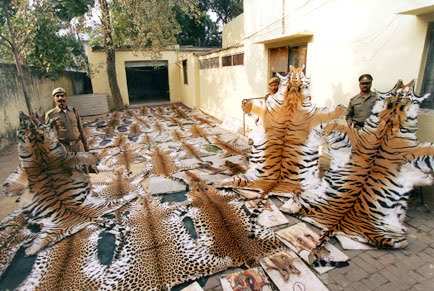 Slaughtered tigers and leopards courtesy of China and lack of CITES enforcement?
Auckland Zoo under fire for treatment of elephanthttp://www.stuff.co.nz/auckland/66359598/Auckland-Zoo-under-fire-for-treatment-of-elephant
Zimbabwe elephant population dwindles amid threat from poachers http://www.chicagotribune.com/news/sns-wp-blm-news-bc-elephants18-20150218-story.html
The fight against wildlife poaching. What is driving the illegal wildlife poaching and what can be done to tackle it? al jazeera http://www.aljazeera.com/programmes/countingthecost/2015/02/fight-wildlife-poaching-150214151330583.html
Cape ivory smuggler fined R1m http://www.iol.co.za/news/crime-courts/cape-ivory-smuggler-fined-r1m-1.1820067#.VOR3uC7JIsc
Tiger Temple back in business after reversal by Thai wildlife officials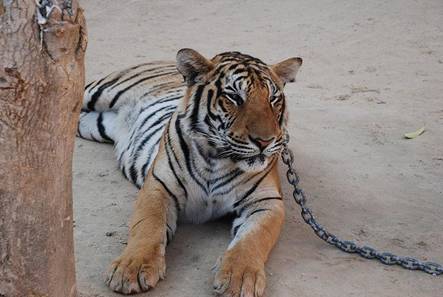 Bones, piece of skin of freshly poached tiger seized http://timesofindia.indiatimes.com/city/nagpur/Bones-piece-of-skin-of-freshly-poached-tiger-seized/articleshow/46279735.cms
Expert: Little being done to protect hunted serow http://www.thestar.com.my/News/Nation/2015/02/18/Our-very-own-goat-in-danger-Expert-Little-being-done-to-protect-hunted-serow/
REDD ink: Forest efforts in Peru all but absent from news media http://blog.cifor.org/26863/redd-in-news-media-in-peru#.VORcWi7JIsc
Kenya: Tsavo Jumbos Fitted With GPS for Tracking http://allafrica.com/stories/201502181445.html
Census takers search for Siberian tigers in Russia's east http://www.theguardian.com/environment/2015/feb/18/siberian-tiger-census-in-russias-far-east
Anger at bid to fly monkeys to Australia for Pirates of the Caribbean film http://www.theguardian.com/world/2015/feb/18/animal-rights-groups-condemn-plan-to-import-monkeys-for-pirates-film
RNP tigers face threat from growing Gujjar population http://timesofindia.indiatimes.com/city/dehradun/RNP-tigers-face-threat-from-growing-Gujjar-population/articleshow/46291555.cms
SL Customs seizes illicit Indian pangolin, clutches smuggler http://customstoday.com.pk/sl-customs-seizes-illicit-indian-pangolin-clutches-smuggler/
Selective logging causes long-term changes to forest structure http://news.mongabay.com/2015/0218-logging-impact-on-african-forest-structure.html
Orphaned Baby Orangutan in C. Kalimantan Finds Temporary Home http://thejakartaglobe.beritasatu.com/news/orphaned-baby-orangutan-c-kalimantan-finds-temporary-home/
Two suspected poachers held. INDIA http://timesofindia.indiatimes.com/City/Nagpur/Two-suspected-poachers-held/articleshow/46292987.cms

Man held after cops seize R1m abalone. SOUTH AFRICA http://www.iol.co.za/news/crime-courts/man-held-after-cops-seize-r1m-abalone-1.1819391#.VOWBRS7JIsd
Saudi customs foil bird smuggling on Bahrain border. extract: Saudi customs agents have foiled an attempt to smuggle in almost 3,000 live "ornamental" birds from Bahrain, official media reported on Thursday.http://www.globalpost.com/dispatch/news/afp/150212/saudi-customs-foil-bird-smuggling-bahrain-border
Customs' sniffer dogs help uncover 60kg of illegal ivory from Nigeria at Hong Kong airport http://www.scmp.com/news/hong-kong/article/1718668/customs-dogs-sniff-out-60kg-illegal-ivory-nigeria-hong-kong-airport …
Cove Guardians ?@CoveGuardians 21h21 hours ago JAPAN
Bottlenose dolphin meat for sale! No price tag could possibly compensate for the torture they endured. No words.