Another dose of bad news about poaching, wildlife and environmental crimes from around the world …
in the spotlight (again) today ……………………
SHAME ON CHINA
Are China's Zoos Really 'Acceptable' Places for Zimbabwe's Wild Baby Elephants? (NA comment: We have written and asked the CITES MA in both China and Thailand to confirm or deny if their countries are importing these elephants. We have heard from neither. We didn't expect to hear from China as the MA there are well known for being economical with the truth. Thailand, however, already with more elephants in captivity than it knows what to do with, we are hoping will reply. This illustrates just how secretive the CITES 'club' really is.)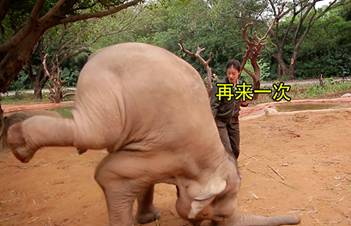 Lead image source: Chantal Lyons/Flickr http://www.onegreenplanet.org/animalsandnature/are-chinas-zoos-really-acceptable-places-for-zimbabwes-wild-baby-elephants/
IF YOU ARE ATTENDING THE BOTSWANA CONFERENCE, WHY NOT CONFRONT THIS MAN AND TELL HIM WHAT YOU THINK OF THIS EVIL AND CRUEL TRADE? IF NOT HIM, THEN HIS CITES REPRESENTATIVES. PLEASE DON'T LOOK THE OTHER WAY. HIS OFFICE ALSO APPROVED ALL THOSE APE IMPORTS FROM AFRICA.
Mr Wan Ziming
Director
Division of Law Enforcement and Training
18 Hepinglidongjie
BEIJING 100714
Tel: +86 (10) 84 23 90 04
Fax: +86 (10) 84 23 88 94
Email: zimingwan
HE COULD STOP THE BABY ELEPHANT IMPORTS, BUT WILL HE? UP TO NOW HE HAS SHOWN NOTHING BUT CONTEMPT FOR THEM – AND ENDANGERED GREAT APES.
HE BRINGS SHAME ON CHINA – AND CITES, DOESN'T HE?
No 362 Wildlife Trade News 21st March 2015
Botswana hosts wildlife summits as elephants fight for survival. (NA comment: Yet another talking shop.) extract: "China holds the key to the future of elephants," said Iain Douglas-Hamilton, founder of Kenya-based Save the Elephants. "Without China's leadership in ending demand for ivory, Africa's elephants could disappear from the wild within a generation." http://www.globalpost.com/dispatch/news/afp/150321/botswana-hosts-wildlife-summits-elephants-fight-survival
CHINA

WCS
Zimbabwe says elephant exports to raise money for conservation (NA comment: Or for corrupt politicians?) http://world.einnews.com/article/255879288/bKmw6cpNZtrzxDJJ
THE FATE AND ABUSE OF ORANGUTANS AT SAFARI WORLD, BANGKOK, THAILAND – a zoo with a history of massive involvement in the illegal trade of orangutans from Indonesia.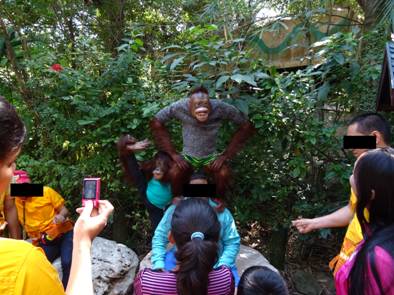 photos: Nature Alert. February 2015
Dressed to humilate, forced twice a day to pose for photos, the cruelty goes on and on and on …….
Cameroon: An example of the work needed to combat illegal logging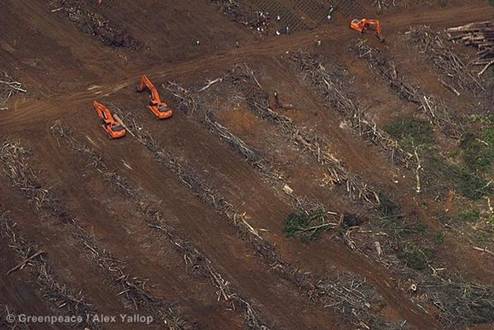 http://www.greenpeace.org/africa/en/News/Blog/cameroon-an-example-of-the-work-needed-to-com/blog/52382/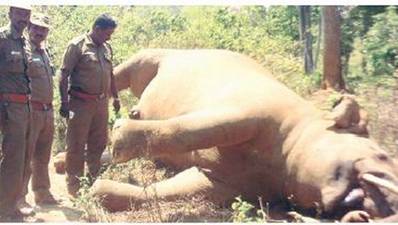 http://www.newindianexpress.com/states/tamil_nadu/Bull-Elephant-Electrocuted-2-Booked-for-Illegal-Fencing/2015/03/21/article2723735.ece
Loggers feast on forests. Bangladesh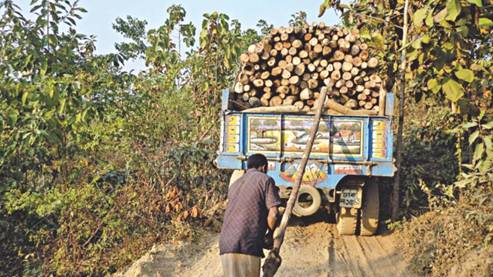 A man trims a log before loading it on the truck. Wholesale illegal logging is going on in the reserve forests of the hill districts by a nexus of timber traders and allegedly forest officials. Photo: Star http://www.thedailystar.net/backpage/loggers-feast-forests-72805