The daily does of bad news from around the world about poaching, wildlife and
environmental crimes …
Please note: For newsletter subscription and circulation details see message at the end of this newsletter. If you find this newsletter helpful we would welcome feedback from you which will be kept confidential.
in the spotlight today ……………………
Gabon needs to secure government stockpiles: EXTRACT: In another blow to efforts to combat ivory trafficking in Central Africa, thieves broke into a local court in northern Gabon last week and stole up to 300 kilograms of confiscated ivory, highlighting once again the need for more secure management of government stockpiles – just two weeks before a major continental conference on the illegal wildlife trade in Brazzaville, Republic of Congo.

http://en.gabonews.com/2/news/environment/article/gabon-needs-to-secure-government-stockpiles
No 385 Wildlife Trade News: 17th April
SABAH WILDLIFE DEPARTMENT: Stop Exploitation of Mowgli the Orangutan

https://www.change.org/p/stop-exploitation-of-mowgli-the-orangutan
A Great Helper for Great Apes. Meet orangutan expert Biruté Mary Galdikas, who works to protect the endangered animals and their habitat http://www.timeforkids.com/news/great-helper-great-apes/230721
65 kgs of smuggled rhino horns, ivory busted at Hanoi airport

A box containing ivory and rhino horns that was busted by customs agency at Hanoi's Noi Bai Airport on April 16. Photo credit: Dan Tri http://www.thanhniennews.com/society/65-kgs-of-smuggled-rhino-horns-ivory-busted-at-hanoi-airport-42265.html
Baby Orangutan Saved From Wildlife Black Market

This baby orangutan was taken from a wildlife trafficker in February. (Photo: WCS Wildlife Crimes Unit) http://www.takepart.com/article/2015/04/16/illegal-wildlife-trader-arrested-selling-live-baby-orangutan-online
Prince William tells EU 'enough is enough' over poor controls allowing poaching to thrive
EU grants 1.35 billion CFA francs to PAGOS program. GANON: NA COMMENT: More official, robotic, jargon 'The goal is to create platforms that will allow all actors present surrounding national parks to participate fully in the management of the activities of these parks', added the representative of the Program' http://en.gabonews.com/2/news/environment/article/eu-grants-1-35-billion-cfa-francs-to-pagos
Poachers held with arms – rhino. INDIA http://www.assamtimes.org/node/13433
Count of unsolved cases mounts in tiger reserve
Deforestation continues in Jammu and Kashmir despite floods http://indiatoday.intoday.in/story/jammu-kashmir-floods-deforestation-deodar-cedar-trees/1/430610.html
Norway PM: Jokowi Stressed Environmental Commitment

President Joko Widodo welcoming Norwegian Prime Minister Erna Solberg at the State Palace on Tuesday. (Antara Photo/Yudhi Mahatma) http://thejakartaglobe.beritasatu.com/news/norway-pm-jokowi-stressed-environmental-commitment/
Govt urged to boost its protection of Sumatran elephants – See more at: http://www.thejakartapost.com/news/2015/04/16/govt-urged-boost-its-protection-sumatran-elephants.html#sthash.OIwfDpCC.dpuf
Piano Man Joel Wants To Save Elephants, Eliminate Ivory Keys http://www.mediapost.com/publications/article/247877/piano-man-joel-wants-to-save-elephants-eliminate.html
Thai government threatens to shut down Tiger Temple featured on 'Born to be Wild'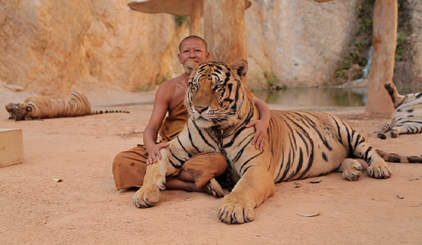 More from: http://www.gmanetwork.com/news/story/471250/publicaffairs/borntobewild/thai-government-threatens-to-shut-down-tiger-temple-featured-on-born-to-be-wild
Rhino poaching revisits Kaziranga http://www.assamtimes.org/node/13429
Africa is centre of a 'wildlife war' that the world is losing. A year on since 46 countries signed up to the 'London declaration' to eradicate the trade in horn and ivory, rhinos and elephants are still being pushed closer to extinction http://www.theguardian.com/environment/2015/mar/21/wildlife-war-lost-in-africa?CMP=share_btn_tw
UN Crime Congress 2015: Legal frameworks adequate or failing the scale of crime? http://ht.ly/LGv4m

EXCLUSIVE – 'I've killed 31 today already, it's the best meat there is': Disturbing boom in pet cats being snatched off Vietnamese streets to be served illegally in restaurants as 'baby tiger' with noodles
You know about poaching, but here are other big threats to Africa's wildlife (INFOGRAPHIC)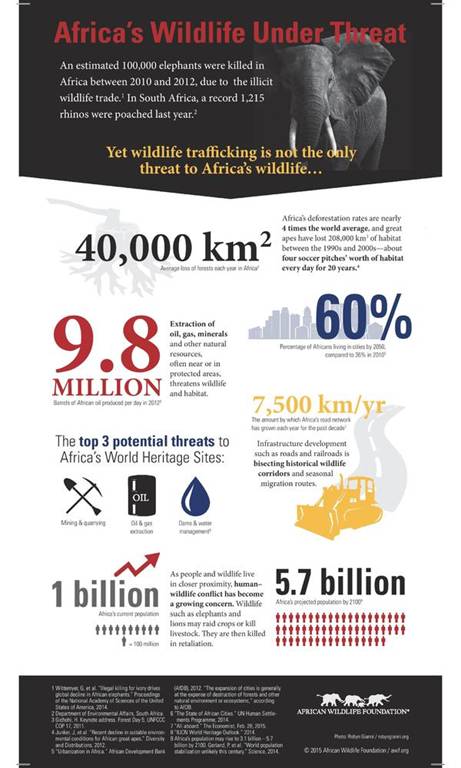 http://mgafrica.com/article/2015-04-16-you-know-about-poaching-but-here-are-other-big-threats-facing-africas-wildlife