Your daily dose of bad news about poaching wildlife and environmental crimes from around the world
in the spotlight today ……………………
President Invited to Congo Brazzaville
EXTRACT: Congo Brazzaville President Denis Sassou Nguesso has invited President Mugabe to officially open an international environmental conference next week. NA COMMENT: Another week, another wildlife trade conference. Will NGOs and scientists, you know – the usual ones, boycott this talking shop or, will they remain on the lucrative conference gravy train?
http://allafrica.com/stories/201504230014.html
No 392 Wildlife Trade News: 25th April
WWF says translocation not the answer: 99 cases of jumbo deaths; none charged. SABAH/MALAYSIA. (NA COMMENT: For years we have exposed Sabah's shameful record of permitting the palm oil industry to destroy Sabah's wildlife and tourism industry. This is what happens when weak wildlife agency officials fail to enforce the law – CITES PLEASE NOTE. Minister Masidi Manjun (see below) has presided over the extinction of the rhino in Sabah's forests and done nothing but talk and hold conferences about the rest of Sabah's disappearing wildlife – and eco-tourism industry. Everyone knows the palm oil industry is the largest decimator of Sabah's environment, legally and illegally, but it's never punished. There's nothing wrong with the law – apart from the fact it is not enforced – exactly what we see happening elsewhere while CITES continues 'talking and holding conferences' and the world's wildlife is being obliterated, isn't it?)

http://www.dailyexpress.com.my/news.cfm?NewsID=99283
How did Sunway Lagoon get their white lions? MALAYSIA

EXTRACT: We are also disappointed that Perhilitan, the Malaysian Wildlife Department, allowed the import of the two white lions into Sunway zoo. This sends a message to all Malaysian zoo owners that they can import, abuse and exploit any animal from around the world as they wish. If Perhilitan and the environment minister cared about animals, they wouldn't have allowed the import. http://www.freemalaysiatoday.com/category/opinion/letters/2015/04/25/how-did-sunway-lagoon-get-their-white-lions/
Forest Department Launches Jumbo Rescue Act. INDIA

http://www.newindianexpress.com/cities/thiruvananthapuram/Forest-Department-Launches-Jumbo-Rescue-Act/2015/04/25/article2781404.ece
Legal action to instituted in incidents involving elephants. SRI LANKA http://newsfirst.lk/english/2015/04/legal-action-to-instituted-in-incidents-involving-elephants/91394
BREAKING: Halong Bay bears set for rescue

NA COMMENT: we have no contact with Animals Asia, but are constantly impressed by their actions and results. As we have said so many times before, the only way anyone can assess any organisation is by its results, not talk. RESULTS MATTER. https://www.animalsasia.org/uk/media/news/news-archive/breaking-halong-bay-bears-set-for-rescue.html
Education for Nature – Vietnam (ENV) Pangolin seizure confirmed to be African pangolins
A seizure of nearly 85kg of pangolin scales from a bus in Thai Binh province in late March were identified this week as being of African origin. This is one of a number of cases in the past year that ENV is aware of involving African pangolins being smuggled through Vietnam to China. It is also an indicator that Vietnamese criminal networks are expanding their reach into other parts of Africa. Criminal syndicates operating from Vietnam and African countries have already been implicated in rhino horn, ivory, and lion bone smuggling. ENV is tracking this case very closely as the vehicle used in this seizure was linked to a prior smuggling case as well. Last week, an ENV investigation also resulted in the seizure of 36 pangolins in Hanoi following a year-long investigation of another family involved in the pangolin trade. In that case, the pangolins were not from Africa and were subsequently transferred to Soc Son Rescue Center in Hanoi.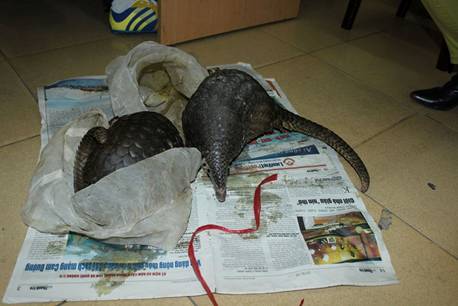 (Photo: Pangolins seizued in Hanoi, December)
KWS set to commission forensic laboratory to fight wildlife crimes http://www.coastweek.com/3817-special-report-02.htm

http://www.dawn.com/news/1178081/171-turtles-released-in-head-balloki
Poached and rescued: 504 turtles released at Head Balloki. EXTRACT LAHORE: "A small pond turtle is sold for $250. The consignment of 504 turtles caught at Allama Iqbal Airport on Tuesday night would have fetched USD126,000. The fine imposed on the culprits is a fraction of the market price these turtles would have fetched," said Worldwide Wildlife Fund Bio-Diversity Director Uzma Khan, http://tribune.com.pk/story/875467/poached-and-rescued-504-turtles-released-at-head-balloki/
Fracas over Costa Rican shark-fin exports leads American Airlines to stop shipping fins http://news.mongabay.com/2015/0424-watsa-costa-rica-shark-fins.html#ixzz3YHGKQR3h
IF CITES OFFICIALS WERE TO ENFORCE THE CONVENTION IT WOULD SAVE A HELL
OF A LOT OF WILDLIFE, WOULDN'T IT? IT'S NOT ROCKET SCIENCE, IS IT?