Some good news this Sunday but still … you get your daily dose of bad news too …
in the spotlight today ……………………
Moment £3million turned to dust: Chinese authorities put half a tonne of ivory into grinder after it was seized from smugglers (NA comment: A good start, better late than never, but China is going to have to do a heck of a lot more to convince us it is finally getting serious about tackling the illegal wildlife trade, isn't it?)
More than half a tonne of ivory and ivory products were destroyed publicly
Items were ground into powder under the eyes of media and diplomats
Ornaments included fine Buddha and goddess statues carved from tusks
Beijing hopes to show determination in 'further protecting wild animals'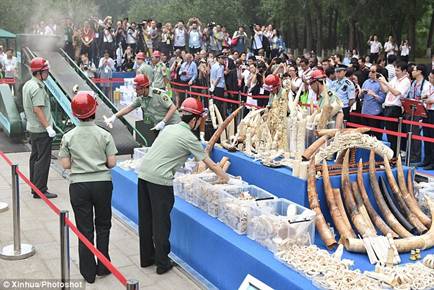 http://www.dailymail.co.uk/news/peoplesdaily/article-3102497/Sending-message-ivory-smugglers-Moment-Chinese-authorities-destroyed-thousands-ornaments-tusks-seized-border.html
"We will strictly control ivory processing and trade until the commercial processing and sale of ivory and its products are eventually halted." – Zhao Shucong, head of China's State Forestry Administration
No 418 Wildlife Trade News: 30th May
Illegal Trade In Bear Bile Is Widespread In Malaysia (NA COMMENT: When it comes to incompetence and collusion, Perhilitan and the Sabah Wildlife Department have few equals. They are experts in turning both a blind eye and deaf ear to anything regarding the illegal wildlife trade or cruelty to animals in zoos. The CITES Standing Committee watch over all this like statues on a stone plinth……the only difference is, statues have their uses don't they?) http://malaysiandigest.com/news/555645-illegal-trade-in-bear-bile-is-widespread-in-malaysia.html
130 turtles seized at Dhaka airport. EXTRACT: The Indian pond turtles were to be smuggled to Malaysia, in a Malaysian Airlines flight, at around 10:00am this morning.

Barely a week goes by without illegal wildlife enroute to Malaysia being confiscated. How many more animals will be 'sacrificed' by the CITES Standing Committee before it punished Malaysia for its widespread and persistent complicity in the illegal wildlife trade? Does anyone in the Secretariat and Standing Committee have the backbone to take on Malaysia? http://www.thedailystar.net/country/130-turtles-seized-dhaka-airport-89407
Why are poaching, bush meat trading and elephant killing still happening? MALAYSIA – See more at: http://www.themalaysianinsider.com/sideviews/article/why-are-poaching-bush-meat-trade-and-elephant-killing-still-happening-james#sthash.RJ3fzhAs.ABBNEOfh.dpuf
China signals end to domestic ivory market during destruction of illegal stockpile extract: Government sources confirmed today's ivory destruction was preceded by an independent third party audit of the stockpile to be destroyed. WWF and TRAFFIC consider such audits should be a prerequisite before any ivory stockpile destruction is carried out, to ensure there is utmost transparency in the process.(NA comment: MALAYSIA is looking increasingly isolated because of its reluctance to have its stocks of ivory independently audited and destroyed.When Malaysia trails behind China, you know just how bad things are – despite which, CITES, inexplicably, allows Malaysia to go unpunished. Malaysia has a long history of complicity in the illegal wildlife trade, so much so it's known as a worldwide hub; well, when sanctions are not enforced what's to stop Malaysia? In other words – CITES is part of the problem, not part of the solution – which it should be. Who do you blame for that?)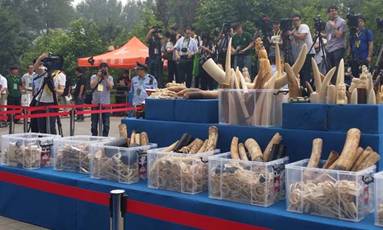 http://www.traffic.org/home/2015/5/29/china-signals-end-to-domestic-ivory-market-during-destructio.html
COME ON MALAYSIA – SHOW US YOUR IVORY ….
IF YOU HAVE NOT ALREADY SOLD IT OFF
OR GIVEN IT AWAY TO 'PEOPLE WITH INFLUENCE'.
National scene: Govt claims larger protected forest area. INDONESIA. EXTRACT: The moratorium on new permits, however, has frequently been ignored by local officials due to the absence of sanctions for violations. – See more at: http://www.thejakartapost.com/news/2015/05/30/national-scene-govt-claims-larger-protected-forest-area.html#sthash.oOiSGpFW.dpuf

Traffic news in Chinese http://www.traffic.org/news-chinese/2015/5/29/828234609639.html
Rhino horn trade debate will fuel poaching. By working on a proposal to CITES to legalise trade in rhino horn, South Africa could actually be fuelling rhino poaching. http://m.mg.co.za/article/2015-05-28-rhino-horn-trade-debate-will-fuel-poaching
Lumber Liquidators' CEO Resigns Amid Investigation into Illegal Timber Imports

http://eia-global.org/blog/lumber-liquidators-ceo-resigns-amid-investigation-into-illegal-timber-impor
ECUADOR: 10,000 shark fins destined for Asia seized. 6 arrests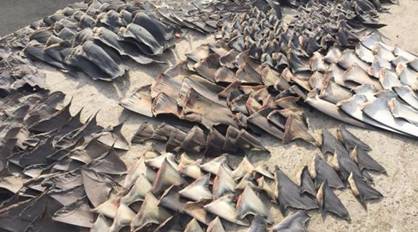 http://www.elcomercio.com/tendencias/aletasdetiburon-manta-decomiso-fiscalia-operativo.html
Malaysian state eyes 100% certified palm oil by 2025 http://news.mongabay.com/2015/0529-sabah-jurisdictional-approach-palm-oil.html (NA comment: Nature Alert encouraged all concerned in Malaysia to do this about seven years ago. We met with resistance and the industry is now seven years behind the times……AND IT'S GOING TO BE AT LEAST 10 more years, if we are to believe them- and we don't, before they are RSPO compliant. It would be impossible to exaggerate how bad and devious this industry is.)
"First they ignore you, then they laugh at you, then they fight you,
then you win." – Mohandas Gandhi
Drone footage shows what rainforest destruction really looks like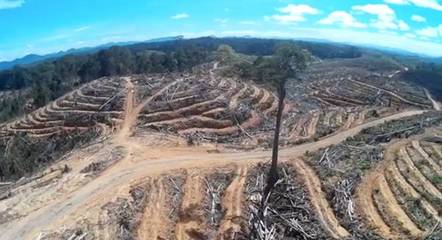 Screen capture — Forest Heros captures the environmental impact of a palm oil company in Indonesia on camera. http://www.treehugger.com/climate-change/drone-footage-shows-what-rainforest-destruction-really-looks.html
New York Blood Center Leaves Chimps to Die of Starvation. EXTRACT: "Never, ever have I seen anything even remotely as disgusting as this" Yes, you can believe your eyes and feel your heart break. It's a fact that a colony of 66 chimpanzees in a Liberian laboratory are being abandoned by the New York Blood Center https://www.psychologytoday.com/blog/animal-emotions/201505/new-york-blood-center-leaves-chimps-die-starvation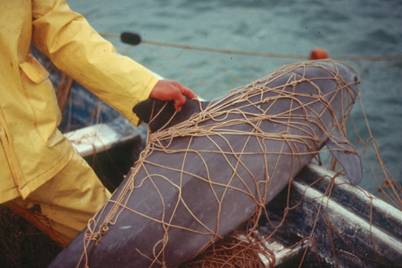 A fisherman hauls up a critically endangered vaquita porpoise accidentally entangled in his net in 2008. Entanglement in fishing gear threatens the species with extinction. Photo credit: Omar Vidal.
Read more: http://news.mongabay.com/2015/0527-kessler-fishing-ban-to-save-vaquita-mexico.html#ixzz3bb6B1GQO
Flash Report on the Mombasa Port: a Liability for Kenya and Africa Ivory Trafficking: Undercover Survey at the Mombasa Port Reveals Vulnerabilities, Confirms High Level Corruption, and Highlights National and International Security Issues