A RETURN TO THE ENCHANTED FOREST OF NYUNGWE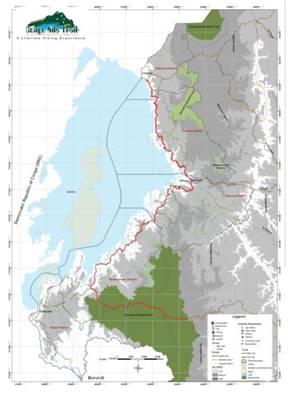 (Map courtesy of New Dawn Associates, Kigali, Rwanda)
When in Rwanda last week I was almost continuously asked by regular readers of my blog the sheer number of individual readers in Rwanda continues to amaze me to be honest and more so that dozens of people walked up to me in Kinigi at the gorilla naming ceremony to shake my hand and thank me for the good news I spread about their country and the articles I publish in The Eye Rwanda via www.theeye.co.rw, what my attraction is towards the Congo Nile Trail and Nyungwe Forest and why in particular I call it the Enchanted Forest.
What is there to do you tell me in a forest, what is there to see when walking along one of our rural roads one in particular wanted to know, in fact many asked similar questions and when I then discussed the geographical area with Anny, the NDA Chief Executive, and her staff Alpha Leina, showing a great interest in my explanations as they were themselves to write a new safari itinerary for that particular area, it was soon clear that the Congo Nile Trail indeed traverses Rwandas most scenic landscapes. Alternating in elevation by often 2.000 feet and more from the lake to the mountains and back at frequent intervals, the trail hugs the lake shores but at times also meanders off a bit inland, where the nearby Nyungwe National Park offers a range of trails and hikes few know about and which I am determined to make public and spread the good news, just how much one can do during a forest visit. A growing network of trails, presently numbering at least 8, plus the access to the famous canopy walk, extends across Nyungwe and requires anywhere from a few hours to a day to a multi day hike across the forest, the latter when traversing the Congo Nile Divide Trail which requires camping en route and can take 3 to 4 days to complete.
But first things first, some background on this spectacular forest. Nyungwe is the East and Central African regions largest remaining montane rainforest, measures just over 1.000 square kilometres in size, receives more than 2.000 ml of average rainfall per annum and has with Mt. Bigugu the highest elevation at 2.950 metres above sea level. Home to 13 primate species, 75 mammal species, over 310 species of birds including 27 endemics, more than 240 tree species, over 140 recorded orchids and nearly 1.070 plant types including the spectacular giant lobelia, Nyungwe is as rich in biodiversity as forests come in this day and age. There may well be more but I have come across at least 8 different trails, starting in different places from around the park and covering different landscapes and parts of the forest, but only one amongst them is a multi day hike which requires taking ones own tent and food along. All other trails can be done within a few hours or a day, although it is understood that camping sites are being established along some of the trails, permitting for hikers to stay overnight in the forest and get a hands on and close up experience. No lodges, no matter how luxurious, at the edge of this forest will ever permit that feeling of closeness to it, but then they have other advantages which a tent in the wild does not have, such as room service and hot showers, fire places, gourmet dining and hospitality generally at its best.
The natural sounds in the forest at night, with none at all from traffic, might be eerie at first, sound like haunted on second thought or else are just fascinating for those in the know, able to identify the birds and animals which live in the deep of the forest and rarely allow themselves to be seen by humans, but still heard as they converse. I got some taste of it last year, when entering the Enchanted Forest and developed some hunger, craving in fact for more, plenty of more wanting to explore the trails, the sights and sounds and waterfalls along the way, the wetlands and swamps, immersed in nature. Accompanied only by my guide and porter, and well, perhaps one day someone who shares this particular, if not peculiar interest to explore the deep of Nyungwe on foot, happy to stand and listen, stand and watch or sit by a river bank or near a water fall and let time pass as if it were of no consequence. In fact, in the forest all which matters to its dwellers is day or night, or rain or dry, as in some places hardly a ray of sunlight falls to the forest floor, so thick is the foliage above, at times 70 metres high.
So what options are there you might impatiently ask. 8 trails, requiring between 3 to 8 hours, a bit more if the hikers are not entirely fit, and then of course the big one, the Congo Nile Divide Trail of 42.2 kilometres, a marathon distance no less, which can take anywhere between 3 to 4 days. But lets start with the seemingly easy parts before returning to the multi day one as the crowning achievement, at least for those who successfully completed it.
The four kilometre Karamba Trail offers a circular route of about 4 kilometres, starting from the Gisakura Reception Centre of RDB and often are the Angola Colobus observed along the route while in terms of flora the giant tree ferns are bound to attract constant attention. The trail, part of which I have done last year, also offers a good bounty of bird sightings, an added bonus of course.
Another trail of slightly longer distance is the Ngabwe Trail, which starts from the Kitabi park entrance, the first encounter being made there by visitors coming by vehicle from Butare / Huye. Here one of the camp and picnic sites is found at the highest elevation of this particular trail, allowing for extra time in the forest to fully absorb the experience, besides a good chance to see some primates in the process. The 4.7 kilometre long trail can be completed though in just over 3 hours however by those wanting only a quick in and out experience to get acquainted with the forest.
Next in line if going by length and duration would be the Muzimu Trail which is located in the North East of the park and offers some scenic views across the forest to Lake Kivu. A trail often chosen for bird watching, it covers some 5.2 kilometres and can take between 3.5 and 4 hours to complete. A camp ground near the Gisovu ranger station is available for those wishing to stay overnight.
The Kamiranzovu Marsh Trail some 6 kilometres in length, requires about 4 hours walk to reach the parks largest wetland, and it leads off the main road between the Uwinka Visitor Centre and the Gisakura Reception Centre, first on a steep downhill slope and then guess what, an equally steep climb back up to the main road again where a rest is then most welcome of course.
The Bigugu Trail which leads to the parks highest peak at 2.950 metres above sea level, is though only about 6.7 kilometres long one of the toughest due to its steep ascend and at least 6, during rains as much as 7 or more hours are needed to get there and come back. The trail sets out from the main road not too far from the Uwinka Visitor Centre and hikers can see a wide range of wild flowers but also some of the rarer birds.
The Isumo or Waterfall Trail is slightly longer but less demanding, and the approximate distance of 10.6 kilometres can easily be done in between 3 5 hours, depending on how long one wishes to remain at the waterfalls or how often one stops to see the flora of the forest close up. The first part of the trail routes through some tea plantations, giving an added insight in one of the key economic activities of the area besides tourism.
And as we near the end of the list, the Source of the Nile Walk is an 8 hour walk, four hours each way, and leaves also from the Gisovu Tea Estate side of the park. This trail leads to what has often been described as the furthest known source of waters joining the River Nile and been termed the True Source of the Nile as opposed to the Source of the Nile in Jinja / Uganda, where Lake Victoria empties into the upper Nile valley. Prior arrangements are highly recommended to do this hike as at times a ranger guide must be sent first from other stations to meet the hikers at the Gisovu Tea Estate.
And last but not least the big one, the Congo Nile Divide Trail, one of marathon length, i.e. over 42.2 kilometres long and requiring camping equipment and food to be carried along by either porters or on ones own back. This trail is the richest in terms of vegetation and bio diversity, no wonder as it crosses much of the park and being on foot every little detail is visible and can be absorbed, instead of racing by seated inside a car. Experienced guides will accompany the hikers and it should be noted that the use of porters frees energy and hands to fully enjoy the forest trails while spreading a little wealth in to the local communities which depend on such direct income from tourists. Feedback obtained from guides I met in Kinigi, who had come to celebrate the gorilla naming, was such that visitors stood in awe at the crest and could see the different directions the runoff from rain was taking, on one side flowing towards the Congo basin and on the other side towards the Nile basin. Geography pure and hands on.
Well, in truth there is a ninth trail, the Igishigishigi Trail from the Uwinka Visitor Centre try to pronounce that on the double which leads to the canopy walk high above the treetops and offering some spectacular views across the forests expanse, but for aficionados of hiking, it is best called a stroll and not a hike, lest one would want to insult the serious hikers who do the main trails in half the time foreseen.
Perhaps now my readers will understand the rich variety of options available to hike into and around Nyungwe Forest, leaving the question of the Enchanted bit to clarify.
As an avid reader of the Hobbit and The Lord of the Rings by Prof. J.R.R. Tolkien I must admit that the chapters when Bilbo the Hobbit with the dwarves of the Great Thorin Oakenshield or later on Frodo and his companions as part of The Nine walked across the forests of Middle Earth caught my attention as early as 40 years ago. Even getting these books in the old country was next to impossible back then, and I had to insisted severally to get it in English no German translation was available anyway and it took months before my bookshop eventually told me that they had sourced it at last. I read myself since then through several volumes, as the first version eventually fell apart from too much reading and leafing through it and my present set must be the tenth at least I purchased over the years, some of them suspected to have been appropriated by visitors. It is therefore no surprise to me really, eccentric as that might sound old professors do have the right to be eccentric I think – that when I first entered into Nyungwe last year, I immediately teleported myself into the Hobbits Mirkwood Forest, the Old Forest and Fangorn where the Shepards of the Trees lived in Tolkiens tales and could sense the presence of hidden elves watching me from behind thickets, or half way expected to bump into a little hobbit or perhaps some of Thorin Oakenshields dwarves. For me it was quite real at the time and I expect to see the same mindset re-emerge when I get back to Nyungwe, one of Africas ancient forests and for sure as full of magic things as it comes, if only one has the right eye sight to spot them. That does not however deflect my attention to the flora and fauna of Nyungwe, which remains one of the places in Eastern Africa I could visit time and again, further inspired of course by the luxury of the Nyungwe Forest Loge, owned and operated by DubaiWorld, which is set right at the edge of the forest and permits conversing with it from ones own cottage terrace or balcony.
During my last visit to Rwanda, while time did not permit a return to the Enchanted Forest that is planned for next month in a private visit when I at last take time out from my busy life for a week or two I nevertheless had time to discuss itineraries with New Dawn Associates CEO Anny Batamuriza and her social networks marketer Alpha Leina. The objective here was how to best combine hikes along the Congo Nile Trail, which commences in Cyangugu and runs along sections of the forest national park, with the hikes now on offer and available inside the park itself. The Congo Nile Trail provides some of the most spectacular vistas across Lake Kivu and into the mountains and hills behind, and is entirely safe to hike and bike, especially when organized through an operator well acquainted with the area and using guides who know the trail and its side loops like the back of their hand. A visit there will show that Rwanda is no longer all about gorilla tracking but has developed a range of other and equally exciting products, like the birding trails and since late last year the Congo Nile Trail and the forest trails inside Nyungwe. Admittedly, it is not for all, certainly not for beach bums who for a fortnight are literally glued to their sunbeds by the pool or beach at the coast, nor for many of those who cant ever only imagine going on safari anywhere else but inside a 4×4. Yet, there are a growing number of hiking aficionados who, as a result of the publicity given to the Congo Nile Trail and the Nyungwe Forest National Park are now putting this part of Rwanda on their own personal bucket list as a must see before I die, wanting to experience the unique attractions of hiking across rural Rwanda, meeting Rwandans and appreciating the countrys Herculean effort to both restore and maintain their forests like no other country in Eastern Africa does.
Writing, at least the way I do write, is all about dreaming and telling those dreams to an audience and I for one am happy to share my wildest imaginations about Nyungwe and tell the stories as I experience them, imagination and reality interwoven and inseparable. In Nyungwe I find it all, the magic, the mystique, the hidden treasures of nature, the solitude and the intense awareness that this ancient forest holds secrets just waiting to be found like treasures to be unearthed. Next week I will return to Ugandas Endangered Forest, aka Mabira to get to know more about it when taking a hike with Peter Nsubuga, one of the local guides available through the Eco Tourism Centre of the NFA, but in truth, I cannot wait to return to Nyungwe next month, and perhaps again in August, to write yet more about my personal experiences, close up and personal, with the Enchanted Forest.
Visit www.rwandatourism.com or www.rdb.rw or www.newdawnassociates.com for more information on available hikes and expeditions to this still to be explored part of Rwanda. And as the saying goes, WATCH THIS SPACE.