OPERATION GIANT STRIDES
By Colleen Hogg / October 2018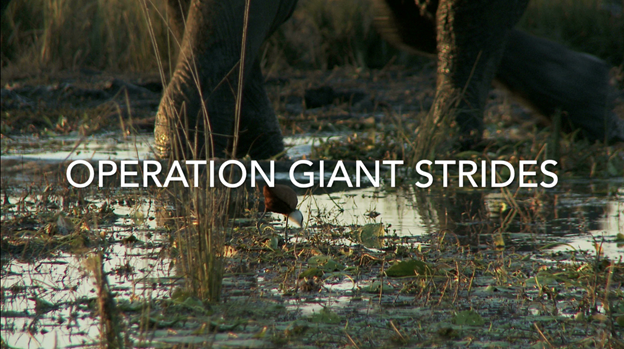 What is it all About?
HELPING EMPOWER WILDLIFE RANGERS IN EAST AFRICA
ASKED WHAT THEY WANTED FIRST AND FOREMOST 99% OF THE WILDLIFE RANGERS TOLD ME THEY DESPERATELY WANTED TO INCREASE THEIR EDUCATION AND THAT OF THEIR CHILDREN – TO ENSURE A BETTER AND SELF-SUSTAINING FUTURE.
Here is where Photography4life comes in – formed in Kenya and Tanzania by photographer and writer, Colleen Hogg (a 3rd generation Kenyan who has worked in the safari industry in East Africa for over 35 years). After spending time in the bush on location photographing and writing about the Rangers on the ground, Colleen formed a close connection to these brave men and yearned to contribute in a way that would effectively help them, their families and the surrounding wildlife.
After winning their trust and confidence, the solution emerged one night during a deep conversation, whilst they cooked a hard-earned meal after a long day tracking.
OUR STORY BY COLLEEN HOGG:
All the Rangers were motivated and excitedly voiced their wishes to improve their education – to increase their abilities, communicate better with other Rangers (and conservation efforts/authorities) across borders and, make a lasting difference in the fight to save their natural heritage. It was a great goal, but we were a far cry from the developed world, and my thoughts searched for a way to effectively help them?
It started with me introducing the Rangers to the outside through images and short stories. But it was a mammoth task that needed far more momentum and I began inviting other specialists with similar dreams and interests to form a team under the wing of 'Photography4life', contributing ideas, knowledge and experience to make such a project succeed.
Starting with small footsteps on the sun-baked vastness of the savannah plains the concept has grown into Giant Strides. Like a wobbly calf growing up with its towering family group and matriarch around, so did Photography4life develop as a team – in clarity and determination.
No one said it better than the great Martin Luther King Jr when he talked about 'his dream'. It's about creating a legacy and realising a dream. Inspiring the great in all of us to do the right thing, choose a true path and creating a future full of love and respect for one another. Never before have I felt so strongly about helping others empower themselves, and my team and I hope that all of you that visit this page will join us in making 'OPERATION GIANT STRIDES' THE WILDEST SUCCESS EVER.
For us at Photography4life ''OPERATION GIANT STRIDES' symbolises new hope and continued success for wildlife Rangers and wildlife across East Africa– starting with those I have come so close to in the area of Enduimet, Northern Tanzania and in my homeland, Kenya.
Less than 5 decades ago the people of Africa and the surrounding wildlife still lived a balanced existence together. Now on the brink of extinction, Africa will soon lose its oldest and iconic animals whose existence began alongside primitive man in the Palaeolithic era – 66 million years ago.
Now, it's about reconnecting man and wildlife once more, for the betterment of both, before it is too late.
It's not so hard to imagine – if we only look at the bigger picture.
Reignited by love, compatibility, and a future together – an earthly spiritual connection that is as old as time itself.
WHAT WE WANT TO DO:
The reality is using 'Operation Giant Strides' as a tool to help empower Wildlife Rangers on the ground and in so doing, effectively change the attitudes and outlook of their surrounding communities – instilling a new level of appreciation and long-term value in their natural heritage. Bringing more members of the community on board and away from the temptation of quick bucks as poachers. The project is dedicated to bringing communities and wildlife together THROUGH THE EMPOWERMENT THAT SPECIFIC COURSES WILL PROVIDE. Enabling the Rangers to do their jobs the very best way they can, whilst also gaining confidence and providing lasting results.
We will also continue with photography and journalism on the ground, bringing valuable insight and stories never shared before. A real global platform for the Wildlife Rangers.
HOW CAN YOU MAKE A DIFFERENCE?
You can help by contributing a few pounds and become one of us. Every penny counts AND gets us closer to our goal.
IF YOU LIKE WHAT YOU HAVE READ HERE:
Please spread the word like crazy and keep in touch and visit our Photography4life Facebook page as well. Large communities have 'VOICE POWER.' We have also started a Photography4life GROUP for those who want to jump on board and help us meet our targets. The more people involved and the more who know about us – the quicker we can get going in helping far more Rangers. Our website is also full of photographs and information dating back to my first mission with the Wildlife Rangers, and we will shortly be sending out our first 'News Letter. Sign up below for it to be e-mail to you
OUR TEAM MEMBERS:
We are a small team WITH A BIG MESSAGE
Our Team Members' page of our website contains our details. But here I would like to specifically mention Audra DiMambro, Founder and Director of 'Winds of Africa' Organisation – which is working closely with us on this project. Audra comes from the USA (where she lives with her husband and partner Tony), and she comes with a wealth of experience and knowledge of East Africa (especially Tanzania). Audra's speciality however is in operating highly successful courses in communication and English, which she has managed for the past decade. I had the pleasure of meeting Audra when I first came up with the idea of helping the wildlife Rangers of Enduimet, but it was not until I visited one of Audra's classes that I realised just how unique and effective her specially designed courses really were. Dedicated to a handful of Rangers at a time; boosting lasting results, installing confidence and success, the courses truly illustrate just how effectual, strong communication can really be. In addition to teaching the men (and women Rangers) a thoroughly good level of English, it also allows them to confidently communicate on a global level – and that's vital.
Audra and I are working closely on 'OPERATION GREAT STRIDE' with my involvement in communicating with the Rangers and their superiors, correspondence and media networking – as well as using this project as the platform needed to complete our presentation/application to become a fully-fledged Charity, registered in the United Kingdom. The project also paves the way for filming and photo-journalism that will be taking place with participating team members mid-February 2019. All essential ingredients in increasing global awareness and interest in what these incredibly dedicated Rangers do.
Tanzania Rangers. Looking over the planes. Pure Heaven. Come join Us
Have Africa to Yourself
Come join us in the field for some real excitement. We will shortly be launching exciting Safari options where you will be able to meet Rangers either in Kenya or Tanzania. Meet elephants and other wildlife up close and learn the secrets and beauty of the African bush – well away from tourists' crowds. This is an experience you will love from a deep sleep at night to the sound of Africa from your lush room and cosy bed, super food and endless memories.
Make new Friends
There is nothing like visiting a new place and making new friends. Especially when you are with experts and can relax and know that you are save. If you are a bit of a Photographer Wiz then you will love being escorted by a wildlife expert who is also extensively experienced in videography and helping you get take awesome images of your personalised adventure. If you prefer to have enjoy each moment and then sit back and relax in camp, thats ok too.
Coming up…
YOUR LOOSE CHANGE CAN MAKE A DIFFERENCE WITH US
We have started a 'GoFundMe' fundraising campaign to empower Rangers in anti-poaching and wildlife conservation on the ground. Join our global family and we will keep you up to date with all our Bush News and Inside Stories.
BE AN 'ELLE FRIEND'
COOL PRESENTS GALORE
Following shortly is Photography4Life's new and exciting shopping platform, selling awesome Christmas gifts for you to choose from and bye pressies for your nearest and dearest. Give them a gift this year that they will remember. Items include beautiful 2019 calendars, diaries, posters and tons more. …Oh and there's so much more for you to buy. The secrets will be out of the bag soon.
Give your friends and family something unique this year and in doing so help us make a lasting difference in the life of Rangers in East Africa.
BY SUPPORTING US
…you are helping us assist Rangers directly. We're not a huge organisation with little to no, real ties with the people and needs on the ground, or rising operational costs to pay and wages to pay. We are a group of people who, know the facts and where we can best launch sustainable projects that bring communities and wildlife together positively. We are all volunteers and we have deep roots in East Africa. Every member brings extraordinary experience and immense knowhow to the table. Our operation costs are kept to a minimal and accountability is 100% transparent and public.
We are in the process of registering in the United Kingdom as a charity and our campaign is part of being public and completing our footprint in the UK.
Supporters in the USA can donate through our Associates 'WINDS OF AFRICA,' for OPERATION GIANT STRIDES and details can be found through Colleen Hogg at: colleen
PHASE ONE OF 'OPERATION GIANTS STRIDES' INVOLVES
3 Wildlife Rangers on the next course = £5500
Film Crew base on the ground two months = £1000
Operational costs = £800
Equipment and Course material = £200
More details available from Colleen at: colleen
IMPORTANT LINKS:
Operation Giant Strides' Official launch
https://www.youtube.com/watch?v=xsI_8Rz1Z6s
Our Website:
https://photography4life.org/operation-giant-strides
Our Global Facebook Community:
https://www.facebook.com/photography4life.org