#PARKINN BY #RADISSON – A YEAR OF SUCCESS

(Posted 27th April 2018)
(Seen here from right to left are Mercy Njiru, Marketing and Communications Manager,
Ruth Mwalwa, Sales Manager and Eric Muiruri, F&B Manager of the new Park Inn Nairobi during an earlier visit to the hotel)
A year ago was it Kenya's President Uhuru Kenyatta who officiated at the formal opening of the Park Inn by Radisson in the Westlands area of Nairobi and, as witnessed myself during a conference last year at the hotel, has the Park Inn established itself as a premier business hotel, providing a wide range of services at a cost to guests substantially below what five star properties in Nairobi otherwise charge.
Earlier this week was it then Kenya's Cabinet Secretary for Tourism and Wildlife Najib Balala who graced the occasion of the first anniversary of the hotel and said in his congratulatory message: 'Kenya has registered a huge growth in the number of hotels being built, with investors setting up shop here due to the conducive business environment created by the government and people of Kenya. This opening up of new properties and the entrance of more international brands into Kenya's hospitality industry has greatly expanded the country's capacity in both quality hotel beds and in meetings and conferencing facilities. On the same vein, both business and conference tourism contributed 14% to the total number of visitors to Kenya in 2017, upping the numbers as compared to those of the previous year.
We expect the sector to perform even better this year, taking into consideration the number of conferences, exhibitions that have already happened and others expected to take place in the country. As a Ministry, we are committed to support the hospitality industry and urge all other related sectors to boost it in which way they can'.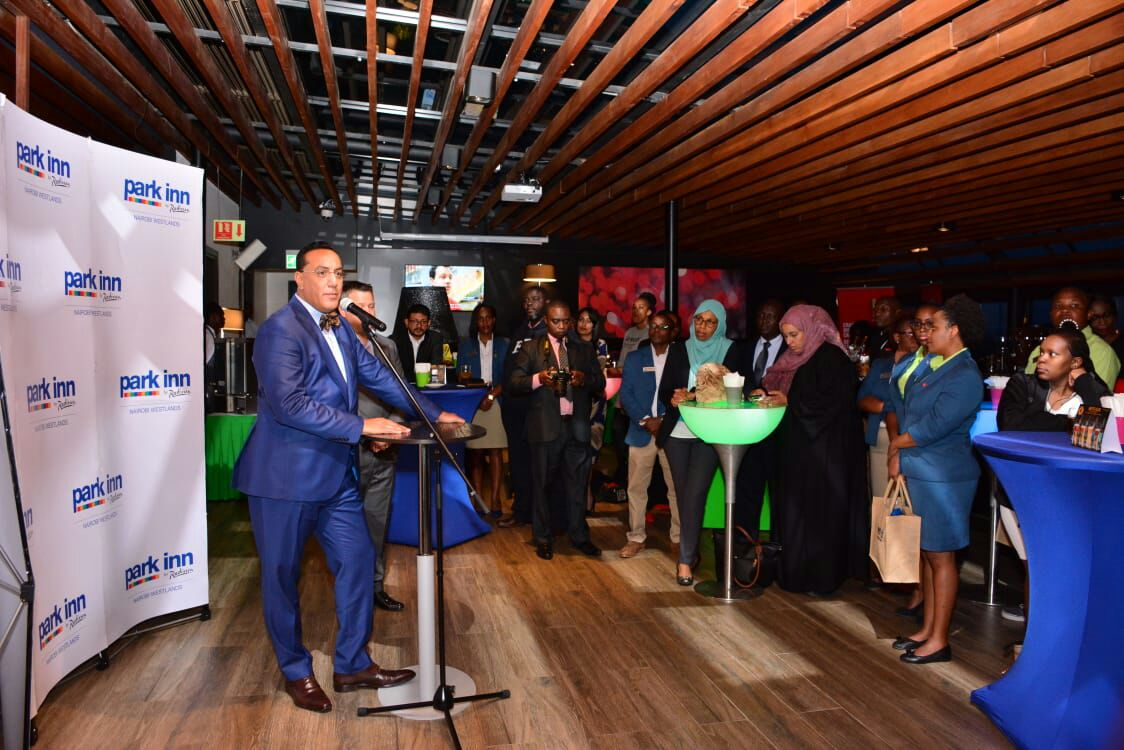 General Manager Carsten Wappler responded when he said in his address: 'It gives me a great pleasure to welcome The Chief Guest, Hon. Najib Balala, EGH, Cabinet Secretary for Tourism & Wildlife, Mr. Ronal Samani (AMS Hotel Group, Owner), Mr. Ian Rydin District Director East Africa in charge of Radisson Hotel Group, all corporates represented, inhouse guests, media, as well as delegates of the hotels significant business partners, management, staff, and all protocol observed. Welcome to Park Inn Nairobi 1st Year Anniversary, we are honoured to have you grace this event.
It is with great fulfilment that we celebrate our first anniversary and overly optimistic as we move into our second year of operation.
The signature brand of newly rebranded Radisson Hotel Group formerly known as Carlson Rezidor Hotel Group is looking at leveraging the powerful, international brand equity of the Radisson name to drive awareness in the marketplace, increase marketing efficiency across the global portfolio and offer exceptional experiences to make Every Moment Matter for guests, owners and talent.
We are proud to gain a high level of recognition in a very short time just after opening. The local and international demand on our property shows appreciation to the efforts and hard work put together by all our staff, owners and management. As Radisson Hotel group we also look forward to further our footprint and customer satisfaction in the region, we will be opening another hotel at Arboretum next year'.
The 140-room hotel opened its doors to the public one year ago on 19th April 2017. Every Moment Matters will be the new signature service philosophy of the company and all its hotel brands including Park Inn By Radisson.
Currently, the 11th largest hotel group in the world, Radisson Hotel Group is made up of eight hotel brands with more than 1,400 hotels in operation and under development. The launch of the group's new identity is a significant milestone in a five-year operating plan that will transform the business and position it to become the preferred choice for guests, owners, investors and talent.
Find related articles about the Park Inn Westlands / Nairobi by clicking on the links below as well as the TripAdvisor review by this correspondent:
https://www.tripadvisor.com/ShowUserReviews-g294207-d12170206-r494414581-Park_Inn_by_Radisson_Nairobi_Westlands-Nairobi.html
https://atcnews.org/2017/04/10/carlson-rezidors-park-inn-nairobi-counting-down-to-opening-day/
https://atcnews.org/2017/05/29/park-inn-nairobi-westlands-officially-opened-by-president-kenyatta/