'THE GOLDEN MOUSTACHE TEAM' OF PARODISTS RETURNS TO THE BIG AND SMALL SCREEN WITH A REUNION BASED NEW FILM
(Posted 01st July 2015)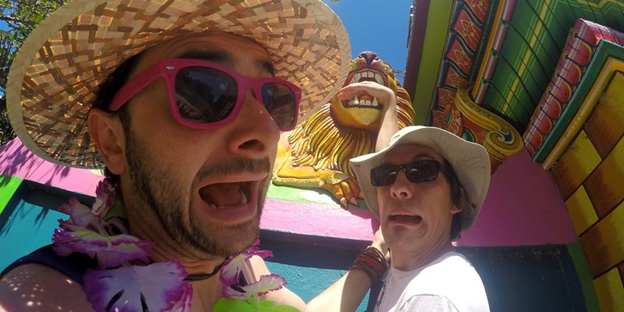 The Golden Moustache, seeking out the treasure of La Buse, that surely will be a story to watch considering their past antics in their short long feature of Fantome de Merde were produced already over a year ago and they kept their fan community waiting for a new adventure.
They will on Friday return to the screen via YouTube and while most will shy away to post any video longer than a few minutes, then at most, the Golden Moustache does not have that problem, in fact the longer the feature the better and the more followers they seem to get.
For this film did the production team and the perhaps slightly mad actors come to Reunion to enact a drama fit to feature in an Indiana Jones movie as they stumble and bumble across the island in search of long lost treasure. No doubt, in anyone's mind in France and on Reunion, except perhaps for the hardiest of grouches, this new feature will be another hit and in the process be good for Reunion to promote travel to the island which is so ably featured as scenic backdrop.
La Buse, who features in other films too, was an 18th century pirate who met his fate when he was hanged in Reunion, but not before he managed to hide his legendary treasure, which many have hunted for, in films and for real. Legend has it, and surely nurtured by tourism gurus in Reunion, that the loot, at today's value, would be worth some 4.5 billion Euros, enough by any standard to bring fortune seekers to the island who dream to find the immense riches and then live a life in luxury.
The two Golden Moustache characters, wherever they are on the island, find themselves in situations both hilarious and absurd, in the best tradition of their acting, no doubt having their fans rolling on the floors laughing. Overall it is an extraordinary adventure viewers can expect and the island of Reunion, in all its majesty and beauty, is always visible in the background, hopefully enticing many fans to travel to the island and follow in the footsteps of the comedians from the Golden Moustache.
For those who need a little dose of the film in advance, here is a 15 second 'teaser' but it is after all just a day before the main feature hits YouTube.https://youtu.be/w-dk_2H6oHM
Attachments area
Preview YouTube video Le Trésor de la Buse by Golden Moustache – teaser

Le Trésor de la Buse by Golden Moustache – teaser