PORINI MARA CAMP JOINS THE ELITE RANKS OF ECOTOURISM KENYA'S GOLD LABELS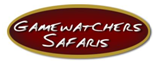 News just broke from Nairobi that the Porini Mara Camp, located on the Ol Kinyei Conservancy adjoining the Masai Mara Game Reserve, has attained the highest marks possible in the annual eco ratings published by EcoTourism Kenya, when it gained, alongside sister camp Porini Amboseli, the coveted Gold Rating, up to the highest possible status from the previously held silver level.
Only eight such gold ratings have ever been issued by EcoTourism Kenya and two are now in the stable of one of Kenya's foremost safari and camp operations, Gamewatchers Safaris and Porini Safari Camps, managed by one of Kenya's outstanding tourism gurus, Jake Grieves Cook and his colleague Dr. Mohanjeet Brar.
The Porini Lion Camp, located nearby in the Olare Orok Conservancy, holds the Silver Rating, affirming the company's longstanding commitment to environmentally best practice, sustainable operating methods and a deeply entrenched 'green culture' rarely seen elsewhere in this day and age. Congratulations to Jake, Mohanjeet and the entire team at Gamewatchers and in particular at the Porini Mara Camp.
Visit www.porini.com for more information on locations, reservations and other important information.