QATAR AIRWAYS LAUNCHES PERTH AHEAD OF KILIMANJARO AND MOMBASA INAUGURALS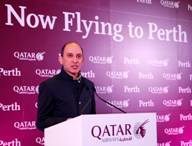 (Qatar Airways CEO Akbar Al Baker seen here addressing invited guests on arrival in Perth yesterday)
The launch of Perth as Qatar Airways second Australian destination, after Melbourne, will see greatly improved connectivity to and from Australia, linking the Gulf, Europe but most notably Africa with Down Under. Initially operating three times a week, using a B777 aircraft, the service is expected to go daily by the end of the year already, should the projected demand materialize. The aircraft is offering a two class configuration with state of the art flat bed seats in a 2 x 2 x 2 business class and a 3 x 3 x 3 economy class layout, featuring the airlines award winning inflight service and entertainment system.
In fact, in his address to the dignitaries present at the arrival party, did the Qatar Airways CEO Akbar Al Baker say: There has never been a better time to expand in Australia a time when the Australian dollar is strong and business and leisure travellers worldwide search for easier and quicker ways to connect and do business. Our flight connections to Africa in particular will greatly please the people of Western Australia, whose strong links with the mining and business communities in East Africa signal enormous growth potential. Qatar Airways remains committed to opening up access to destinations that are largely underserved by international airlines and have great market potential. Perth is an example of this and 2012 will continue to be one of our biggest years of expansion addressing the underserved markets that our strategy has focused on. We sincerely look forward to growing the Perth route and we are already looking to improve frequency to a daily service by the end of the year.
Already serving the four key East African destinations of Nairobi, Dar es Salaam, Entebbe and Kigali, Qatar Airways will in just three weeks from today launch their 5th East African destination of Kilimanjaro, served daily via Nairobi, and in just 5 weeks from today Mombasa will be added as the airlines 6th East African destination, also served daily via Dar es Salaam. Later in the year, likely in November, will Zanzibar follow as the 7th destination in the region, making Qatar Airways THE airline to cover East Africa from abroad like no other. This will give locals a convenient port of embarkation to fly into the 5 star airlines growing global network but also permit the world to travel to their choice destination in East Africa with just one stop, instead of those past days when extra stops and often delayed connections made the end part of the journey full of hassles. Watch this space for regular aviation updates and dont forget, GO FLY.